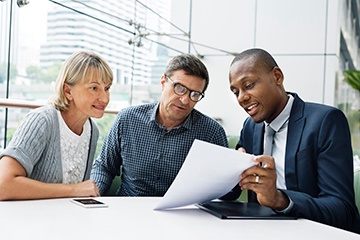 Many organizations believe having multiple brokers compete for their business via a bidding process will result in the best overall insurance and risk management program. To dispel this longstanding myth, it is important to understand how the commercial insurance marketplace truly works, and why many organizations are changing the way they buy insurance today.
SINGLE BROKER BIDDING VS. MULTIPLE BROKER BIDDING
Insurance brokers across the country have, unfortunately, created a narrative that obtaining multiple bids from multiple brokers will result in the best overall program. This narrative, however, is fundamentally flawed. Here's why:
Top independent insurance brokers generally have access to the same insurance companies - either directly, or through broker networks.

Because top brokers have access to the same markets, multiple broker bidding rewards "speed" and not "quality" in the

insurance

marketplace. Why? Insurance companies only accept submissions from one broker, and they'll only release a quote to the broker who submits an application first. When multiple

independent

brokers are bidding

on an organization's insurance

,

the submission process becomes a game of speed, not a game of accuracy. This often leads to

sloppy work and incomplete submissions. In addition, an underwriter may receive conflicting information as represented by two different brokers

racing to be seen first.

Having multiple brokers bid/quote

forces those same brokers to "sell" an organization

something

.

As a result,

a business leader

is required to become an insurance expert to truly compare options.

What business leader has time for this?

Insurance is complex.

Policies are often hundreds of pages of legal jargon and company specific terms and conditions

. It's nearly impossible to truly compare multiple programs without understanding exclusions, definitions, pre-amble lan

guage, etc. On the other hand, a single broker voice in the marketplace enables that broker to objectively compare multiple insurance options and "advise" an organization on what's in their best interest.

Multiple broker bidding makes the assumption that all brokers are created equally. By allowing an insurance company's' pricing to dictate a broker relationship, business leaders often fail to combine the best broker, with the best insurance company.
BUSINESSES WITH PROACTIVE RISK MANAGEMENT PROCESSES EARN BETTER INSURANCE PRICING
Recognizing the multiple broker bidding model is fundamentally flawed, many organizations are instead focused on establishing a single broker relationship that best supports their internal risk management and insurance initiatives. Here's why:
Insurance pricing is largely based upon an organizations ability to proactively manage risk through processes, controls, physical safeguards, leadership, culture, and accountability.

Proactive risk management leads to consistently favorable loss history and the overall ability to tell a better story in the insurance marketplace. Too often, business leaders believe that a basic supplemental application, loss runs, and a copy of an old insurance policy is enough to tell their risk management story. This practice leads to higher declination rates and the inability to obtain maximum credits on a consistent basis.

If an organization is taking the time to invest in proactive and effective risk management processes, it is critical that this be fully understood, documented, supported, and marketed by their broker. Without this engagement, this story never makes it to an underwriter's desk.
Multiple broker bidding is messy, ineffective, time-consuming, and fundamentally flawed. Business leaders can't afford to get this wrong. Establish a relationship with a single broker who understands the complexities of insurance, promotes and supports proactive risk management, and stays in front of emerging trends. The good news is, there are others ways to evaluate brokers outside of a bidding process. Through both formal and informal broker evaluation methods, many organizations have found ways to ensure they are consistently aligning the best broker with the best insurance company.