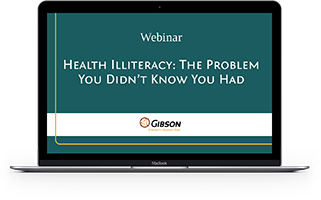 Employees can't become better health care consumers without health literacy.
With the increased prevalence of consumer driven health plans, numerous tools and resources are available to help employees make more informed health care decisions. While these tools are often useful, without understanding the basics, employees can't fully utilize them. Improving health literacy is an equally effective, yet less publicized strategy for increasing health care consumerism.
In this session, you will learn:
The definition of health literacy and how to recognize opportunities to improve
The connection between health literacy, health care consumerism, and health outcomes
How to identify tools and resources to improve literacy and consumerism in the workplace
Presenters: Nicole Fallowfield, Principal | Director of Health Risk Management at Gibson
This webinar was originally presented on February 21, 2018. The following video is a recording of the live webinar. Should you have questions about this presentation, please click here to send us an email.