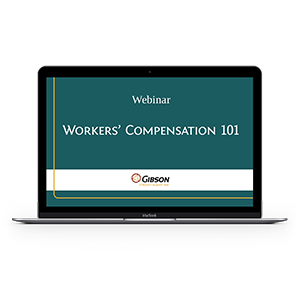 Safety and human resource professionals often have the daunting task of analyzing how workers' compensation claims are impacting your company. This session will teach:
The impact of timely claims reporting on costs - both to the injured worker and the company

Benefits of a strong return-to-work program

How the experience mod is calculated and what can be done to control it
Together, these items can facilitate a stronger employee culture, save your company money, and provide a mechanism to help justify a safety department's budget.
Presenter: Shawna Neilson | Director of Risk Management Services | Gibson
This webinar was originally presented on March 23, 2017. The webinar does focus on Indiana workers' compensation statute, though many of the concepts discussed are relevant to employers in other states as well. The following video is a recording of the live webinar.
Sponsored By: