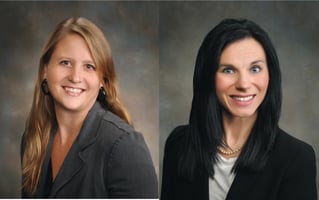 SOUTH BEND/ INDIANAPOLIS, INDIANA – 07/31/20 – Gibson has promoted Diane Davidson to Practice Leader for Commercial Risk Management and Nicole Fallowfield to Director of Administration. Diane and Nicole have a combined 31 years' experience with Gibson and will also join the Executive Leadership Team.
As Practice Leader, Davidson will oversee operations while managing 40 plus team members. She is based in the South Bend Office. "I am excited for this opportunity to expand my contributions for Gibson. Providing a strong operational environment to allow our teams to succeed is a passion of mine; working within the leadership team to accomplish this and similar objectives will strengthen our ability to respond to clients' needs while supporting our employees," says Davidson.
Fallowfield is a Principal and Director of Administration at Gibson. In this role, she owns the employee experience - from traditional HR to wellbeing, technology, and even the facilities in which Gibson employees work. Nicole is also a member of the Board of Directors. She is one of five female stockholders in the company. She is based in the Indianapolis office. "In many ways, I've been preparing for this role my entirecareer. The wellbeing work I have been doing for over 20 years has always been about helping people and organizations thrive. Most recently, I had the privilege of leading the operations team in employee benefits, which required a relentless focus on people and culture. Joining the leadership team will allow me to make a broader impact in championing our culture and developing our people throughout our entire organization," says Fallowfield.
"Having input and perspectives from a more diverse group of leaders is a big win for
Gibson," said CEO Tim Leman. "The combined experience of these women is an asset to the Executive Leadership team. Their styles are well aligned with our core values which will be instrumental as we continue our aggressive plans for both organic growth and fostering an amazing company culture."
Gibson is a regional insurance broker and risk management services firm. With offices in South Bend, Plymouth, Indianapolis, Fort Wayne, and Kalamazoo. Gibson is employee owned and ranks as a top employer in the region. Visit www.gibsonins.com for more information.