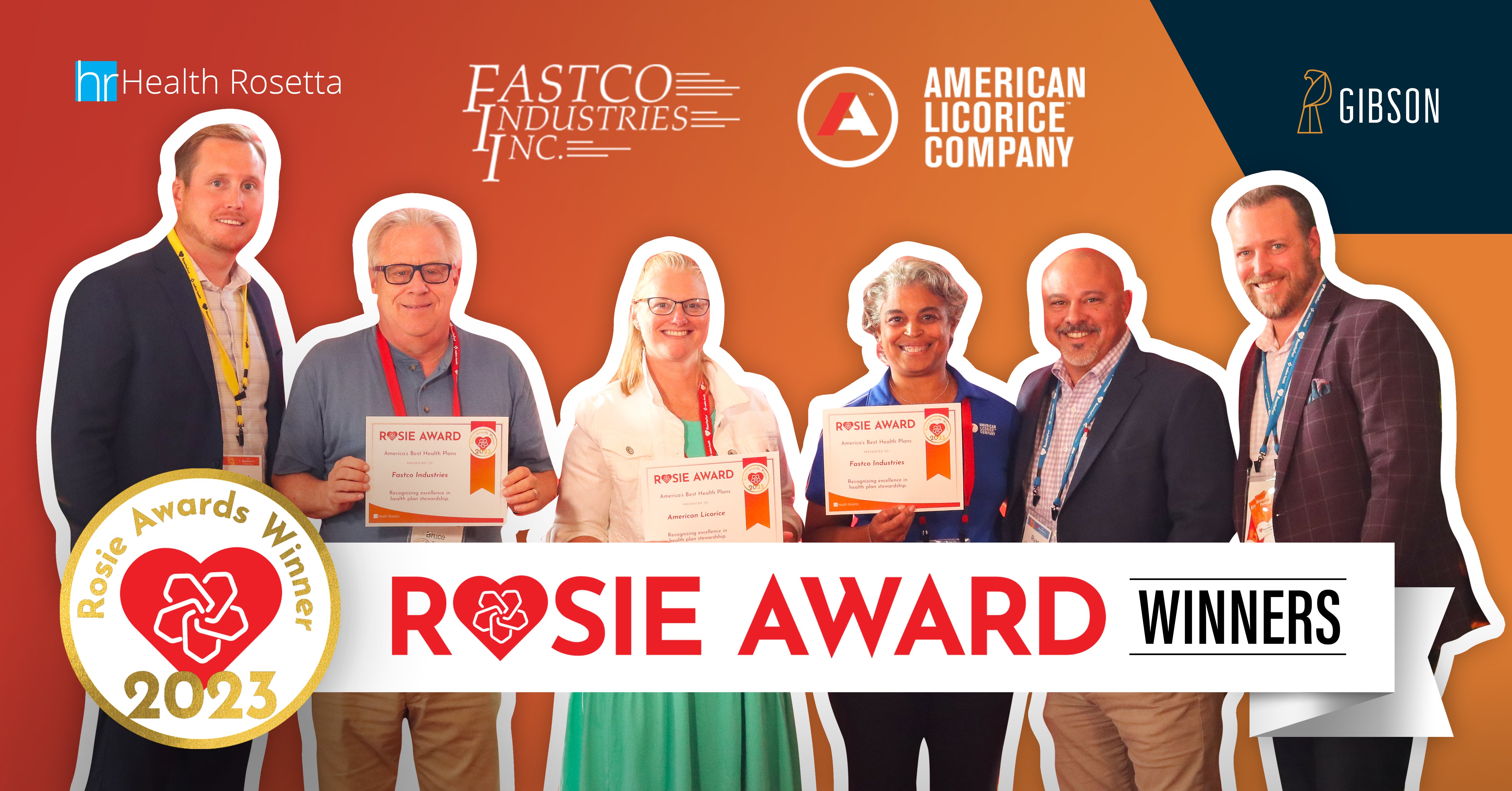 SOUTH BEND, IND. [August 22, 2023] – Gibson, an employee-owned, top-100 U.S. insurance agency, is proud to announce that two of its clients, Fastco Industries and American Licorice, have been honored by Health Rosetta with a national award for health plan excellence and stewardship. Fastco and American Licorice were two of only 50 employers or unions across the U.S. to be presented with a "Rosie Award" as part of Health Rosetta's annual summit held August 7-9 at Chicago's Navy Pier.
"We are thrilled on behalf of our clients, whose dogged commitment to their employees' well-being and proactive stance on benefit plans more than earned them this distinct honor," said Gibson Managing Principal, Michigan and Health Rosetta Advisor Brian Bellware. "These awards are also a testament to Gibson's advisors who are passionate about working for our clients' best interests through intelligent plan design. Together, we are helping change the conversation around healthcare and benefits, showing that a company's bottom line and exceptional benefits for talent can work hand in hand."
The 2023 Rosie Awards recognize high-value, low-cost health plans that meet two important criteria: a high Plan Grader™ score and excellent use of their Health Rosetta dividend. Plan Grader is a comprehensive plan assessment tool offered by Health Rosetta that provides actionable insights to design plans that have been proven to lower costs and enhance benefits. The Health Rosetta dividend refers to money previously wasted on healthcare that can be reinvested back into the organization or community to improve well-being. Examples include free primary care services, pay increases, $0 medications, new job creation, or other tangible improvements that have a direct impact on the health and welfare of their workforce, dependents, and communities.
Fastco Industries, a leading cold headed fastener manufacturer in Grand Rapids, Mich., offers low deductibles and no co-pays for team members who choose high-value options. Further, they have not raised their employee weekly healthcare contributions for three straight years. Recently, they implemented a profit share plan for team members in which any profit in excess of five percent is paid out quarterly in a 50/50 split with team members and ownership.
Another exceptional feature of Fastco's program has been the implementation of an on-site nurse. "I can say with certainty that the amount of money we are saving on benefits more than covers the investment in an on-site nurse," said Bethany Tap, corporate communications specialist at Fastco. "People are avoiding urgent care along with high-cost labs and doctor visits by using our nurse. The morale and health benefit to our people is the cherry on top of concrete savings and we are proud to be able to invest in our team members this way," she added.
American Licorice, a candy manufacturer based in northwest Indiana best known for their Red Vines® and Sour Punch® candies, boasts employee health insurance rates that have not increased in four years. They've also invested in a near-site employee clinic and offer added benefits such as charitable gift matching, volunteer time off, yoga classes, and tuition assistance. As a way to give back to their community, the company donated their own land to create a 15,000-square-foot community garden where residents can pick fresh produce or tend personal garden plots.
"Health plan costs are one of an organization's top three expenses," said Health Rosetta Co-Founder Dave Chase. "It's imperative that leadership have a comprehensive third-party assessment to help them understand how their plan is operating, how it compares to high performance plans, and provide detailed best practices and strategies to improve their plan. Health Rosetta advisors and tools provide such an evaluation."

To learn more about what it takes to build a Rosie Award-winning health plan for your own company, contact Katie Michels at kmichels@thegibsonedge.com.


---

About Health Rosetta
Health Rosetta is leading the healthcare transformation movement. Health Rosetta, the game-changer in healthcare innovation, provides a blueprint for high-performance healthcare along with a framework for improving health outcomes, reducing costs, and enhancing the patient experience. Health Rosetta offers technology, expert advising, best practices and innovative solutions gathered from successful healthcare organizations. By adopting the Health Rosetta principles, employers, providers, and other stakeholders can create a more efficient, effective, and sustainable healthcare system. Join thousands of proactive individuals who have already embraced Health Rosetta's vision for a brighter healthcare future. Take the first step towards better health and financial freedom. Visit https://healthrosetta.org to learn more.