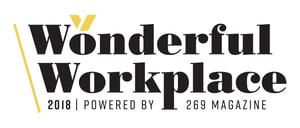 KALAMAZOO, MICHIGAN – 12/11/18 – Gibson has been selected by 269 MAGAZINE as one of Southwest Michigan's Wonderful Workplaces. This award celebrates the outstanding efforts made by local businesses in the region to make their organizations great places to work. Winners are recognized in the Holiday 2018 issue of 269 MAGAZINE.
"When it comes to doing what's best for your team today, the most important thing you can do as a leader is this: Ask your team what they want. The organizations that take the time to do this, and are willing to continually adapt, are the ones attracting the best talent," said Ron Kitchens, publisher of 269 MAGAZINE. "Thankfully, all over Southwest Michigan, there are incredible workplaces that are home to even more impressive teams. We are pleased to honor those we identified as the best-of-the-best."
"We are committed to creating a positive culture and encouraging transparency for our employee-owners. It's an honor to be recognized for these efforts," said Tim Leman, Chairman & CEO at Gibson. "Being named a 'Wonderful Workplace' also solidifies what a great team we have in Southwest Michigan."
The 2018 Wonderful Workplace Awards powered by 269 MAGAZINE honor the hard work local organizations have done to carefully construct their cultures to reflect core values, support thriving communities and allow employees to soar. Here are this year's winners:
| | | |
| --- | --- | --- |
| Company | Location | Industry |
| WSI | Kalamazoo, MI | Staffing and Employment |
| Greenleaf Trust | Kalamazoo, MI | Wealth Management |
| Consumers Credit Union | Oshtemo, MI | Credit Union |
| Kruggel Lawton | St. Joseph, MI | Certified Public Accountants |
| TowerPinkster | Kalamazoo, MI | Architectural and Planning Firm |
| Gibson | Kalamazoo, MI | Risk Management |
| Denso | Battle Creek, MI | Mobility Supplier |
| The Wiser Financial Group | Kalamazoo, MI | Financial Planning |
| Midwest Energy and Communications | Cassopolis, MI | Utilities Provider |
| Ron Jackson Insurance Agency | Kalamazoo, MI | Personal and Business Insurance |
| Keystone Solutions Group | Kalamazoo, MI | Medical Device Solutions |
| GT Independence | Sturgis, MI | Self-Directed Services |
| BDO USA | Kalamazoo, MI | Accounting, Tax, Audit, and Consulting Services |
| Airway Fun Center | Portage, MI | Family Entertainment |
| Child & Family Psychological Services | Portage, MI | Psychological Values |
About Gibson
Gibson is a regional insurance broker, risk management services firm, and HR platform provider. With Indiana offices in South Bend, Plymouth, Indianapolis, Fort Wayne, and Elkhart, and now serving Kalamazoo, Michigan. Gibson is 100% employee owned and ranks as a top employer in the region. Visit www.gibsonins.com for more information.
About 269 MAGAZINE
269 MAGAZINE is a regional publication communicating the distinctive brand that is Southwest Michigan. It aims to inspire its readers to become active participants in the world around them and join its mission to make Southwest Michigan the place to enjoy as home, to work, and bring dreams to reality. Learn more at www.269mag.com.