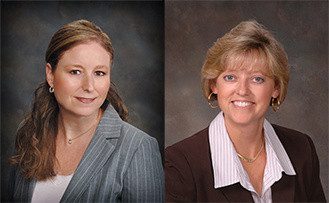 SOUTH BEND/PLYMOUTH/INDIANAPOLIS/FORT WAYNE, INDIANA – 03/30/17 – Liz Misenar, CPCU, API, CPRIA and Kim Spaulding, CPRIA of Gibson have been awarded the Chartered Private Risk and Insurance Advisor (CPRIA) certification by the Private Risk Management Association (PRMA). PRMA is a member-owned independent non-profit association founded by leaders in the private risk management and insurance industry. Misenar and Spaulding are among the 149 graduates for the first-ever CPRIA certification. The CPRIA program is specifically developed for professionals in the high net worth space and involves six rigorous course segments and exams.
Misenar is a principal and the manager of Personal Insurance and the Private Client Group. Her responsibilities include sales, analyzing, and servicing existing accounts, and the overall management of the team.
Spaulding is a Sales Executive in the Private Client Group where she is responsible for providing personal risk management and insurance solutions for clients including all exposures – auto, homeowners, personal umbrella liability, collectibles, recreational motorcraft, and life insurance.
Gibson is a regional insurance broker and risk management services firm. With offices in South Bend, Plymouth, Indianapolis, and Fort Wayne, Indiana, Gibson is 100% employee owned and ranks in the top 1% of independent agencies in the nation. Visit www.gibsonins.com for more information.