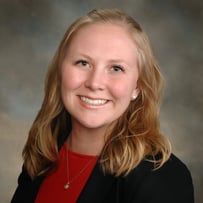 SOUTH BEND/PLYMOUTH/INDIANAPOLIS/FORT WAYNE, INDIANA –04/05/16– Ashley Griffin has joined Gibson as a Client Manager in the Employee Benefits Practice. She is responsible for providing renewal and service management for employee benefits clients including overseeing renewals and enrollments, maintaining policy data, the creation of employee communication materials, and conducting employee open enrollment meetings.
Prior to joining Gibson in 2016, Ashley gained experience in group benefits, individual health & life, travel insurance, and Medicare at a small agency. She has 13 years of direct customer relations experience in the medical and insurance fields.
Gibson is a regional insurance broker and risk management services firm. With offices in South Bend, Plymouth, Indianapolis, and Fort Wayne, Indiana, Gibson is 100% employee owned and ranks in the top 1% of independent agencies in the nation. Visit www.gibsonins.com for more information.