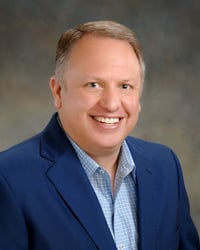 SOUTH BEND/ INDIANAPOLIS/FORT WAYNE/KALAMAZOO – 01/09/20 – Gibson has promoted Brock Squire to Chief Operating Officer (COO). Squire will continue to drive operational and strategic leadership in the key areas of system conversion, operational efficiency, carrier partnerships, and product & service innovation.
As COO, Brock will hold the Leadership Team accountable for achieving company goals, while ensuring all employees are rowing in the same direction. Employing clear communication, transparency, and training, Squire is dedicated to maintaining operational excellence and consistency with our employees, clients and partners.
"Promoting Brock to COO is a strategic and timely decision," said Tim Leman, Gibson CEO. "His leadership style and deep understanding of business operations is well aligned with our plans for growth and expansion. He's already become an integral part of the Leadership Team."
"I'm excited to take on the COO role at Gibson as we continue to innovate new solutions for clients, expand our business into new markets, make a positive impact in the community, and ensure Gibson is a great place for our people to grow in their careers," said Squire.
Prior to joining Gibson, Brock spent 15 years with two of the largest insurance brokers in the country; Willis and Lockton. Most recently serving as Chief Operating Officer for Employee Benefits at Lockton Mountain West, he brings a wealth of experience in leading service teams, carrier relations, contracting, acquisitions, and building new capabilities and revenue streams. He has also been at the forefront of implementing data and system conversions.
---
Gibson is a regional insurance broker and risk management services firm with offices in South Bend, Plymouth, Indianapolis, Fort Wayne, and Kalamazoo. Gibson is employee owned and ranks as a top employer in the region. Visit
www.gibsonins.com
for more information.