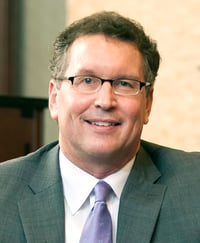 SOUTH BEND/ INDIANAPOLIS/FORT WAYNE/KALAMAZOO – 01/07/20 – Gibson has hired Mike Cahill as Chief Financial Officer (CFO) and Fort Wayne Market President. Cahill has a diverse background with extensive leadership experience in multiple industries including banking, insurance, finance, real estate, and health care. Serving on numerous nonprofit boards, he shares his expertise to make a positive impact throughout the Fort Wayne area.

In this role at Gibson, Mike will be responsible for financial strategy, mergers and acquisitions, developing and fostering key stakeholder relationships, and serving as a member of the Leadership Team.

He will prioritize growth in the Fort Wayne market as he leads Gibson's team in Northeast Indiana. He will also work closely with several of Gibson's industry niches like banks and financial services.

Additionally Mike has joined the ownership group at Gibson, becoming a Principal.

"In the last 5 years Gibson has doubled in sized and entered new markets. I couldn't be more excited where we are going as a company, particularly in the capable financial hands of Mike Cahill, someone I have been privileged to work with for many years," said Ron Turpin, former Gibson CFO.

"It is hard to believe that I first came in contact with Gibson back in 2006. Having been on the Board of Advisors for the Company, being the person who introduced Ron Turpin to Gibson, and believe it or not, helping Gibson locate in downtown Fort Wayne years ago, has made this opportunity additionally exciting for me. Ron is a person of high intellect and integrity, along with being a friend, which makes the transition fun and seamless," said Cahill. "I look forward to being part of a culture I enjoy, a strategy I believe in, and a team of bright, energetic people who make it happen."

"Mike is a difference maker in Northeast Indiana. He has an impressive track record running and growing dominant companies in the world of finance and health care. Mike has mentored countless leaders and is deeply involved in the Fort Wayne community, making him a natural for us as Fort Wayne Market President. To also get his financial mind and experience as our CFO makes this a homerun!" said Tim Leman, Gibson CEO.

Prior to joining Gibson, Mike was the President of Banking Services for Ruoff Home Mortgage. Ruoff employs over 700 people in 60+ offices in Indiana, Ohio, Michigan Kentucky, and Florida. He has held numerous leadership positions including, President & CEO at Physicians Health Plan, CEO of the AWS Foundation, and President & CEO at Tower Bank & Trust Company.

Mike is the President of the Board of Directors for Junior Achievement of Northern Indiana (7th largest JA organization in the country covering 30 counties in northern Indiana and southern Michigan), and a board member of the AWS Foundation and its NFP operating subsidiary, Benchmark Human Services (over 3,000 employees, located in 15 plus states). Additionally, he is on the board of the Northeast Indiana Regional Partnership, Dupont Hospital, Indiana Tech, and the incoming Chair of the Community Foundation of Greater Fort Wayne.
---
Gibson is a regional insurance broker and risk management services firm with offices in South Bend, Plymouth, Indianapolis, Fort Wayne, and Kalamazoo. Gibson is employee owned and ranks as a top employer in the region. Visit
www.gibsonins.com
for more information.