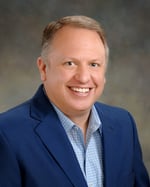 SOUTH BEND/ INDIANAPOLIS/FORT WAYNE, KALAMAZOO – 10/07/19 –
Gibson has hired Brock Squire as Director of Strategic Initiatives. In this role Brock will be responsible for driving operational and strategic leadership in the key areas of system conversion, operational efficiency, carrier partnerships, and product & service innovation.
"Brock is going to be a gamechanger for Gibson," said Tim Leman, Gibson CEO. "His leadership style and deep understanding of business operations is well aligned with our aggressive plans for growth and expansion."
Prior to joining Gibson, Brock spent 15 years with two of the largest insurance brokers in the county; Willis and Lockton. Most recently serving as Chief Operating Officer for Employee Benefits at Lockton Mountain West. He brings a wealth of experience in leading service teams, carrier relations, contracting, acquisitions, and building new capabilities and revenue streams. He has also been at the forefront of implementing data and system conversions.
"I am honored and excited to start this next chapter of my career with Gibson. What an exciting time to join this great team and participate in the next phase of our company's growth," said Squire.
Gibson is a regional insurance broker and risk management services firm. With offices in South Bend, Plymouth, Indianapolis, Fort Wayne, and Kalamazoo. Gibson is 100% employee owned and ranks as a top employer in the region. Visit www.gibsonins.com for more information.