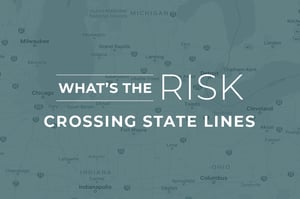 KALAMAZOO, MICHIGAN, SOUTH BEND & FORT WAYNE, INDIANA – 09/18/19 – As part of their "What's The Risk" events, Gibson is hosting the seminar "Crossing State Lines" in Kalamazoo on October 1, South Bend on October 8, and Fort Wayne on October 15. With Michigan legalizing the recreational use of marijuana, and the Federal law still criminalizing it, this leaves many employers wondering what they can prohibit and test for in the workplace.
Joins us for a timely event, where we will include perspectives from a local employment law attorney, Sheri Butler, Director for HR Solutions at Gibson, and Shawna Neilson, Director of Risk Management Services at Gibson.
Topics of Discussion Will Include:
How to manage the evolving risks related to your drug and alcohol policies
How state laws legalizing recreational or medical marijuana impact your policies and practices
How these other recent developments impact your policies and practices
Practical advice for policies and practices to address these issues
Overview of state laws legalizing marijuana, focusing on Michigan, Illinois, Indiana, and Ohio
This FREE event will qualify for 2.0 SHRM credits.
The event will be held from 8:30am – 10:30am, with registration opening at 8:00am. To attend, RSVP at https://www.gibsonins.com/crossingstatelines. Cost is free, however, registration is required.
Gibson is a regional insurance broker and risk management services firm. With offices in South Bend, Plymouth, Indianapolis, Fort Wayne, and Kalamazoo. Gibson is 100% employee owned and ranks as a top employer in the region. Visit www.gibsonins.com for more information.
### End ##