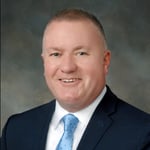 KALAMAZOO, MICHIGAN –04/16/19 – Gary Carey has joined Gibson as our Michigan Market Leader. He is responsible for sales growth and development of our emerging Michigan Market.
Prior to joining Gibson, Gary held Area Vice President of Sales and Regional Sales Director roles with Paycor, a Human Capital Management software company for over six years. Before joining Paycor, Gary spent over twenty years in the office equipment industry in a variety of sales and leadership roles.
Gary also currently serves as the Mayor for the City of Walker, Michigan. Walker has a population of over 25,000 residents and is the headquarters home to businesses such as Meijer and Bissell.
He is currently on the Board of Directors for the Interurban Transit Partnership, Board member for the Grand Valley Metropolitan Council, and Chairs multiple public service committees.
Gary specializes in organizational leadership and development, client retention, strategic planning, community engagement, and human capital management.
Gibson is a regional insurance broker, risk management services firm, and HR platform provider. With Indiana offices in South Bend, Plymouth, Indianapolis, Fort Wayne, Elkhart and Kalamazoo. Gibson is 100% employee owned and ranks as a top employer in the region.
Visit www.gibsonins.com for more information.