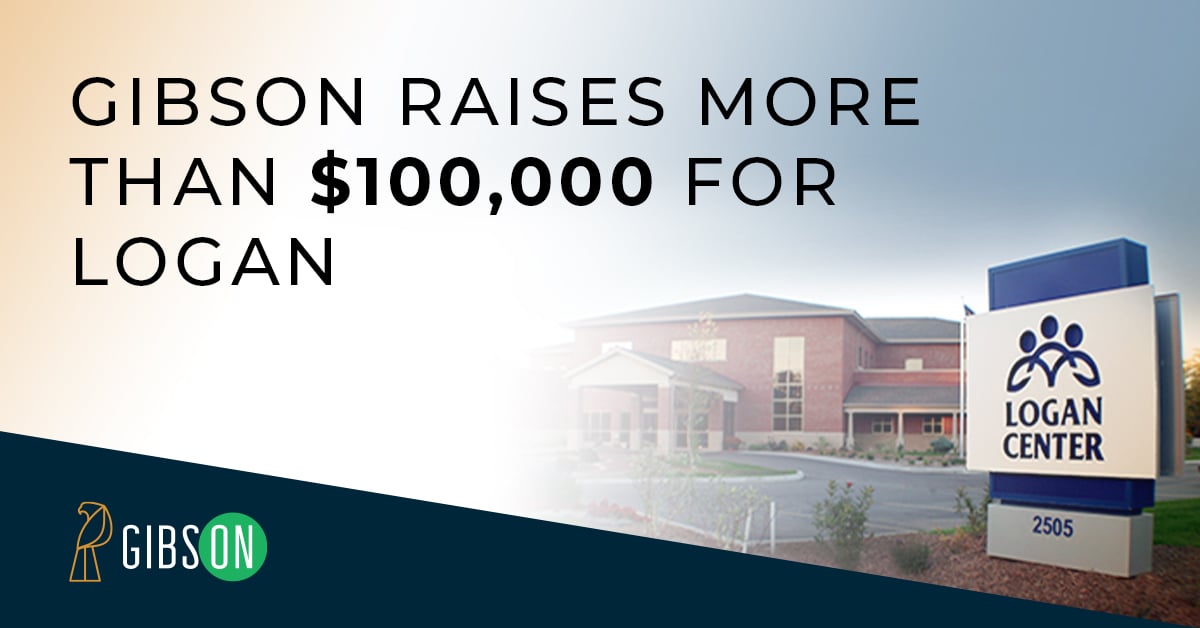 March 4, 2021, South Bend, Indiana – After 35 years with Gibson, Bob Sturtevant will retire at the end of the year. To honor him, his colleagues decided to try something a little different. Instead of giving him the usual gold watch or new golf clubs, they started a
fundraising campaign for his favorite nonprofit.
Gibson partnered with LOGAN Community Resources, Inc. (LOGAN), a local provider of disability services, to create the "Sara Smiles Campaign" in honor of Bob's daughter Sara. The company set a high goal - $100,000 – with funds raised going toward the recreational programs at LOGAN enjoyed by Sara and her friends.

"When I asked how we could honor Bob's 35 years of service at Gibson, he responded without hesitation, support LOGAN!" said Tim Leman, CEO at Gibson. "Without a doubt, Bob has left a large and impactful footprint on our business. And similar to the dedication he has shown Gibson, he and his family have committed their lives as donors and advocates to LOGAN. What a wonderful way to honor his legacy and support a great community partner and client at the same time!"
Gibson rolled out "The Sara Smiles Campaign for LOGAN" on March 3, 2020 with plans for the campaign to last the rest of the year. The kickoff date coincided with the start of Disabilities Awareness Month and The Great LOGAN Nose-On, LOGAN's annual month-long campaign to raise awareness for people with disabilities. Unfortunately, it was also amid COVID19. Although the campaign took a short pause, efforts to continue fundraising resumed in the summer.

Sturtevant joined Gibson in 1985 as a Senior Account Executive. In 1989, he became a Principal and Owner in the firm. In 1996, he and his wife, Peggy, brought Sara home from an orphanage in Guilin, China, and adopted her. A few years later, LOGAN became a vital part of Sara's life.
"The LOGAN staff have been so caring for Sara," Sturtevant said. "She immediately responded to the programs and services offered, and she has made so many friends at LOGAN, lifelong friendships."

Bob serves on LOGAN's Board of Directors and plans to continue in that role in retirement. Peggy serves on the Parent/Family Guardian Advisory Council. Their adult children also have been involved with LOGAN through the years. "It's really been a family affair," Peggy said.

"Bob and Peggy invited us into their family more than 20 years ago. Over the years, their commitment to serve and support LOGAN has been both inspiring and uplifting. Seeing Sara's enjoyment of our recreation programs reminds us all why LOGAN is here," said Matt Harrington, LOGAN President and CEO. "We are humbled to be part of Bob's retirement celebration. Thank you, Gibson, for honoring him in such a unique way."

Gibson and LOGAN will celebrate the campaign's success with a formal check presentation at the 2021 Great LOGAN Nose-On event at the Morris Performing Arts Center on Tuesday, March 23, 2021, with a small group of supporters. Others can catch the live-streamed program on YouTube by visiting TheNoseOn.org.
Gibson's goal was to fill a need – and this unique campaign, Sara Smiles, brought a set of fresh eyes to the amazing needs LOGAN fulfills in our community.