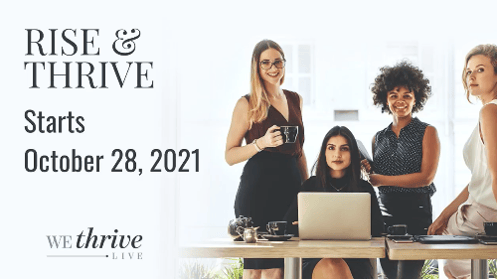 July 30, 2021 – Gibson is excited to announce a partnership with WEthrive.live, an Indianapolis-based company that hosts the annual Rise & Thrive Experience. Program founder Rebecca Fleetwood-Hession has dedicated her life to the pursuit of banning burnout, building community, and boosting business.
Rise & Thrive is a transformative, 7-month experience for seven high-achieving career women. These women will complete the program that culminates with a Spring celebration called "Stand Tall in Your Story" on International Women's Day, March 8th, 2022. Season three of Rise & Thrive kicks off in October 2021.
In 2019, Gibson sponsored its Chief Growth Officer, Courtney Simpkiss, to participate in the program. "The Rise & Thrive experience came at a pivotal time in my career. I had recently joined Gibson after leaving a 14-year tenure with ADP and knew I needed coaching and support to accelerate my transition. What I found in Rise & Thrive was far more than I expected. This unique experience brings high-achieving women leaders together in a community where personal and professional growth fuel and inspire each other," said Simpkiss.
The team at Gibson could see the confidence, strength, and leadership from Courtney through this experience, deciding to share the unique gift of this experience with the community. In 2020, Gibson sponsored local non-profit leader Emily Perry, Executive Director of Susie's Place, to complete the 7-month experience. Susie's Place provides a neutral, child-friendly center to investigate alleged child abuse and neglect in Indiana while putting the comfort and safety of the child first.
"Having the support and guidance of Rise & Thrive and Rebecca is a game changer as a non-profit leader! You will discover unique gifts and talents about yourself; for me, the discovery of these talents and gifts helped fulfill our non-profit mission" said Perry. "I am forever grateful for the opportunity that Gibson afforded me and excited to see other non-profit leaders benefit from this program."
Currently within non-profits, women make up 73% of the workforce and only account for 21% of the leadership positions. We would like to continue to support closing that gender gap. Gibson leadership is comprised of 64% women and intentionally invests in women leaders in all of its communities.
Once again, Gibson will team up with Rebecca and the Rise & Thrive Experience to sponsor a non-profit executive to experience this transformation. If you or someone you know is a woman leader in a non-profit, send her the link below to learn more about the Rise & Thrive Experience.
https://rebeccawethrive.typeform.com/to/bcS0cMqY
Here you'll find the details for the application. The deadline to be considered for the October 2021 to April 2022 Experience is Sept. 7th, 2021.