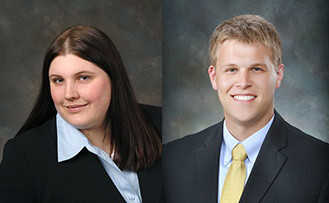 SOUTH BEND/PLYMOUTH/INDIANAPOLIS/FORT WAYNE, INDIANA – 05/19/17 – Hillary Whitney, CEES, and Andy Litchfield, CEES, of Gibson, have been awarded the Certified Ergonomic Evaluation Specialist (CEES) designation.
The CEES designation is offered by Roy Matheson and is recognized across North America, Asia, Africa, and the United Kingdom. It distinguishes professionals who demonstrate skills and knowledge of OSHA and NIOSH guidelines, as well as the revised ANSI protocol and published clinical literature. All CEES' are required to demonstrate competency by planning, administering, and reporting ergonomic evaluations in real-life conditions.
Hillary is a Client Specialist in Risk Management Services. Her responsibilities include providing consulting services to clients for workers' compensation, OSHA compliance, and various safety issues.
Andy is a Loss Prevention Consultant in Risk Management Services at Gibson, specializing in risk management techniques and loss prevention services for business clients.
Gibson is a regional insurance broker and risk management services firm. With offices in South Bend, Plymouth, Indianapolis, and Fort Wayne, Indiana, Gibson is 100% employee owned and ranks in the top 1% of independent agencies in the nation. Visit www.gibsonins.com for more information.