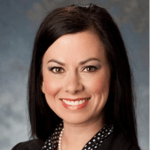 SOUTH BEND/ INDIANAPOLIS, INDIANA – 09/03/19 – Gibson has promoted Courtney Simpkiss to Chief Growth Officer (CGO). Courtney will be part of the leadership team and is the first female in Gibson's history to serve in the overall sales leader role. She joined Gibson in 2018 as Director of Business Development and will continue as Indianapolis Market Leader.
As CGO, Courtney will lead Gibson's expansion throughout Indiana, Michigan, and beyond. She is based in Indianapolis and will report directly to CEO, Tim Leman. She will have direct accountability for the commercial risk management and employee benefits sales and marketing teams.
"Courtney has quickly established herself and made a meaningful impact at Gibson since joining the team," said Tim Leman. "Her leadership style is well aligned with our core values which will be instrumental as we continue our aggressive plans for both organic growth and expansion through acquisition."
Prior to joining Gibson, she spent over 13 years at ADP in a variety of senior leadership roles both in sales and service operations. She was recognized for her community contributions through the first ever Women in Global Sales Leadership Pay It Forward Award and served on the Women in Sales Leadership Advisory Board. Simpkiss serves in a variety of non-profit board roles and volunteer committee work throughout Indiana. She was Board Chair for Foster Success (formerly Indiana Connected by 25) and is now an emeritus member. She is currently volunteering for School on Wheels Development and Events committees.
"I am honored to take on this important role to lead the next phase of our company's growth," said Simpkiss.
Gibson is a regional insurance broker and risk management services firm. With offices in South Bend, Plymouth, Indianapolis, Fort Wayne, and Kalamazoo. Gibson is 100% employee owned and ranks as a top employer in the region. Visit www.gibsonins.com for more information.