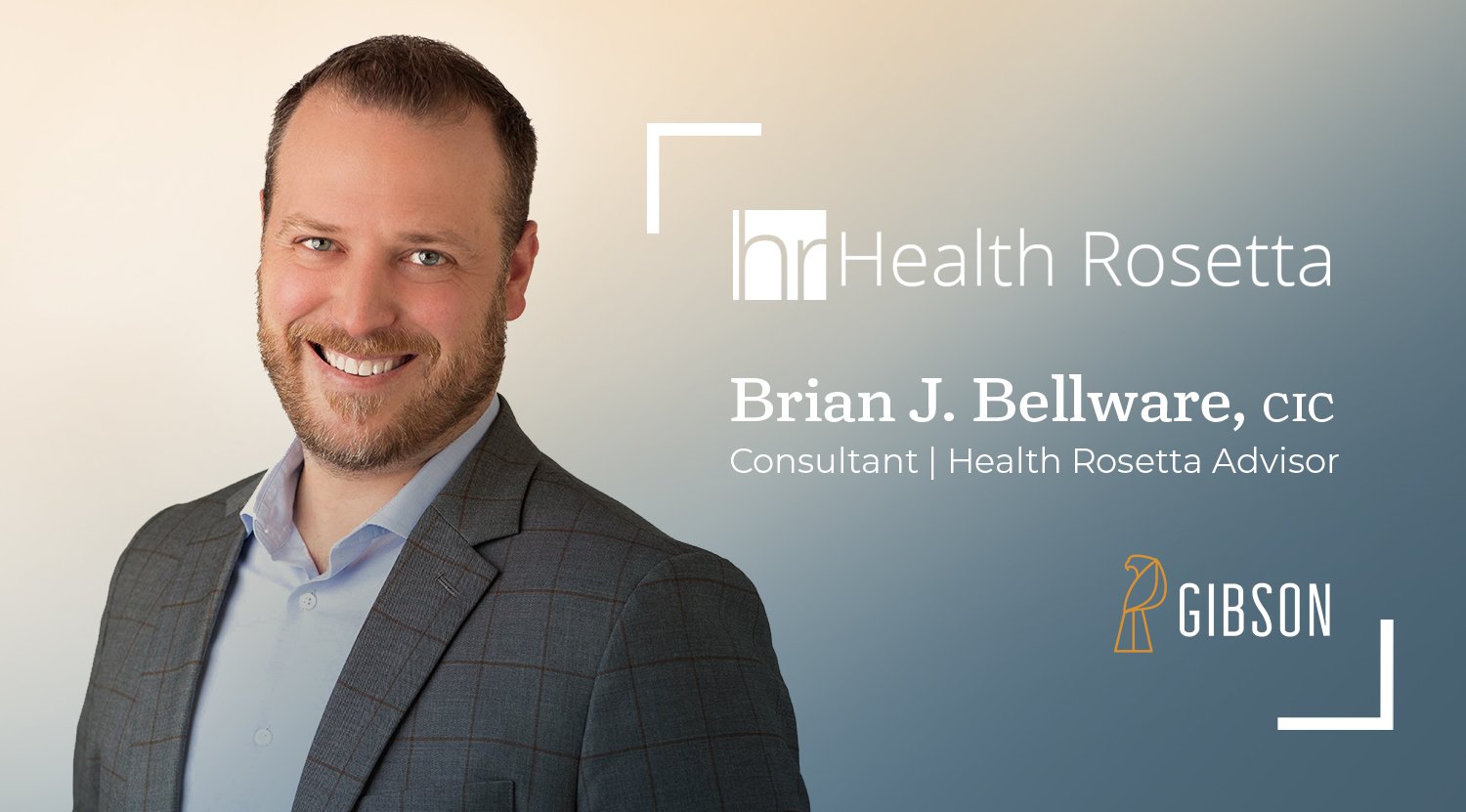 Kalamazoo, MI; January 5, 2021: Gibson today announced an expanding partnership with Health Rosetta after Brian J. Bellware, CIC was selected as one of 214 benefits advisors in the nation to be accepted to the Health Rosetta Advisor program in recognition for his work to better manage clients' health benefit spend. Bellware joins Gibson colleagues Ray Korson and Ryan Colvin, in the program. He is one of only seven Health Rosetta Advisors in the state of Michigan and the first in Southwest Michigan.
"Brian is joining a community of forward-leaning benefits advisors seeking to advance the industry and fix our broken system. Together, we will change the way more than $1.4 trillion of health benefits are purchased!" says Dave Chase, Co-Founder & CEO at Health Rosetta.
Dave Chase is the author of multiple books discussing the work of Health Rosetta and its network of advisors across the Country, including CEO's Guide to Restoring the American Dream, The Opioid Crisis Wake-up Call, and most recently, Relocalizing Health. Chase's TEDx talk is entitled "Healthcare stole the American Dream — here's how we take it back." These resources provide an inside look at how public and private employers and unions across the U.S. are reducing their spending by 20-40% by applying simple, practical, and proven approaches. In fact, if every employer did what Health Rosetta style plans do, it would be like a renewable annual $500 billion dollar stimulus into the economy without any new taxes or deficits.
"We are thrilled to be a part of Health Rosetta and have been deploying many of its core tenets for years. This partnership not only recognizes the incredible work of our advisors and client partners but empowers us to scale proven solutions and to positively impact the communities that we serve," says Ray Korson, Practice Leader & Principle at Gibson.
A component of the Health Rosetta Advisor Program is the development of a multi-year strategic year plan for clients' health benefits versus the traditional 12-month buying cycle. Gibson refers to this process as Sightline, which is a proven, proactive, guided approach to broaden the client's view and set their sights on the obstacles and opportunities that really matter, so they can own every outcome. Through this process, Gibson's advisors and their client partners will explore and prioritize the Health Rosetta components that will most effectively reduce costs and improve employee health.
As a Health Rosetta Advisor, Bellware and his team have access to the books noted above as well as other helpful resources to share with employers to learn more about Health Rosetta, including case studies from peer organizations. Download an executive summary of The CEO's Guide to Restoring the American Dream here.
ABOUT HEALTH ROSETTA
Health Rosetta accelerates adoption of simple, practical, non-partisan fixes to our healthcare system. They help public & private employers and unions provide better care for 157 million Americans while reducing health benefits spending by 20-40%. More information can be found at www.HealthRosetta.org.