Today we're sharing insight from guest blogger René Boer, a Certified Implementer of EOS. We hope you enjoy René's wisdom and perspective.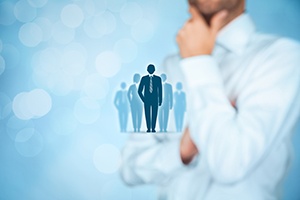 I began my business career in the restaurant industry as a manager for Pizza Hut at a time when it was striving to open restaurants "coast to coast". In those days, to be considered for promotion you had to have your back-up trained, qualified, and ready to take your place. No back-up, no promotion. This made sense because to be considered for an area manager position, supervising restaurant managers had to demonstrate that they could develop people. This simple philosophy helped Pizza Hut quickly meet its goal.
For the past ten years, I've helped business owners and their leadership teams clarify, simplify, and achieve their goals. A common thread that many business owners have is to build an enduring company, one that will continue to thrive after they retire from their business. They place emphasis on hiring and developing people that share their values and have proven their ability to meet both current business demands and future challenges. They appreciate that the time they spend ensuring a smooth transition creates clarity, eliminates uncertainty, reduces stress, and avoids potential chaos.
In facilitating hundreds of training, planning, and problem-solving sessions with clients, "succession planning" has been a common issue. Although everyone understands its importance, very few address the issue because they don't see the urgency. So, the issue stays on the list, waiting for the "right time" to tackle it. However, the "right time" is not always within our control. I worked with one business owner who was diagnosed with pancreatic cancer which eventually claimed his life. Another business owner died suddenly of a heart attack. Fortunately, in both cases, successors were ready to step in and lead their organizations.
Ask yourself these questions:
How many of my employees possess "tribal knowledge" and are within 3 years of retiring?
Have I met with them and confirmed their retirement date?
Has their knowledge and expertise been captured in written processes and procedures?
Do they have someone in their department ready to step into their role?
If not, how long will it take me to find, hire, train, and develop their replacement?
What's The Risk?
If you have key employees within 3 years of retirement and their replacements aren't onboard now, you're putting your company at risk. And, if you're the business owner hoping to retire in 3 to 5 years without a succession plan already being implemented, you're putting your company in mortal danger.
Assess whether your processes and systems are working well. Well-documented processes, that are followed by all, ensure consistency for your customers and scalability of your business. If they aren't working and you're relying on "tribal knowledge", you're at risk.
Is your Human Resources person or department equipped to deal with the staffing challenges of the future? Or, are they overwhelmed with today's issues of filling empty positions and dealing with employee relations issues?
You should be spending as much, if not more, time focused on replacing yourself and key employees as you are on attracting new customers. If not, you're at risk.
Many things have changed since my time as a restaurant manager, but one thing remains constant – the challenge to find, hire, train, and develop the right people who have the skills necessary to grow your business. Don't overlook the obvious – people are your only competitive advantage. Are you implementing your succession plan?
This content was written and shared by guest blogger, René Boer.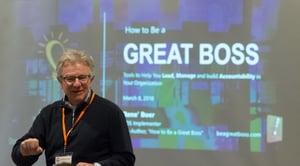 Rene' has 30 years' restaurant industry experience working with well-known brands such as Pizza Hut, Arby's, and Jamba Juice. He's been a franchisee, corporate executive and small business owner. Since 2008, as a Certified Implementer of EOS, the Entrepreneurial Operating System, he has worked with Leadership Teams at more than 50 companies helping them grow their organizations while enjoying more personal freedom.
Rene' earned a BS in Communication from The University of Wisconsin – Stevens Point. He's the co-author, with Gino Wickman, of "How to Be a Great Boss".
A life-long cyclist, he helped create a unique cycling event that, since 2010, has raised more than $500,000 to support the mission of the Davis Phinney Foundation "to help those living with Parkinson's Disease to live better today."
Connect with René on LinkedIn.