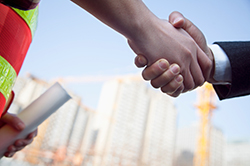 As the contractor for a construction project, you are presented with significant risks, especially with each subcontractor you bring onto the job. You may be held liable for damages or injuries caused by the work subcontractors perform on your behalf – that could be an injured employee of a subcontractor or even injuries to on-site visitors. To reduce your exposure to loss and protect your business, it is critical to implement risk transfer strategies.
Risk transfer is shifting risks of loss for damage or injury to another party. For contractors, this means requiring provisions to be included in all subcontractor contracts in order to transfer the risk appropriately.
As you establish these contracts, it is important to consider these best practices:
Subcontract Agreement Practices
When working with a subcontractor, the following are important to have in place:
Require a subcontract to be executed with all subcontractors prior to performing any work for the contractor.
Include state appropriate indemnification and hold harmless language as well as safety language.
Include an insurance section that outlines the minimum limits and coverages required to be provided by your subcontractor.
Assign a person to be responsible for the insurance program. Ensure this individual is properly trained to review certificates of insurance/requirements. This includes monitoring all endorsements, exclusions, certificates of insurance, limits, effective dates, and carrier ratings to ensure they meet the specified requirements. This person ensures all appropriate forms are completed and maintained as records.
Perform an annual audit to ensure the program is being effectively implemented and the appropriate risk transfer documentation exists.
Certificates Of Insurance
It is essential to request all subcontractors provide their certificates of insurance prior to the commencement of any work. Endorsement forms should also be sent with the certificates of insurance. It is recommended these certificates of insurance state:
Coverage will not be cancelled without 30 days written notice to you.

Specific insurance requirements by line of coverage are discussed below:
Commercial General Liability
Commercial General Liability (CGL) protects businesses against liability for claims of bodily injury or property damage. Contracts should be in writing and require subs to name general contractor, owner, and indemnitees as an additional insured on their general liability and umbrella policies. Such coverage should include "completed operations," not just ongoing operations. Stating the specific additional insured endorsement you desire is recommended to provide clarity. CGL Form CG2010 (11/85) or equivalent, including blanket forms which meet the same requirements, are the recommended forms to require.
Being named as an additional insured on your subcontractor's policy offers a number of advantages:
Your company's policy limits remain available for your use in the event of a loss.

Your company's policy limits are insulated from being exhausted, thereby allowing you to meet future contract

coverage requirements.

Additional insured status allows you to maintain a competitive advantage when bidding jobs.

Defense is required to be provided by the subcontractor's insurance carrier, outside or in addition to the limit of

liability.

Subrogation is avoided.

Your company may obtain additional coverage as an additional insured under the subcontractor's policy.
Commercial Business Auto
Commercial Business Auto policies protect the company's use of cars, trucks, and other vehicles used in the business. It is recommended to ask subcontractors for the following:
Provide an occurrence basis covering all owned, non-owned, and hired vehicles

Provide primary and non-contributory wording

Provide endorsement listing owner and contractor as additional insured
Workers' Compensation
Workers' Compensation (WC) coverage should be carried by all subcontractors performing work on your behalf. Be sure none of the subcontractors exclude employees that are actively involved in the work at the jobsite. If an injury occurs to a person your subcontractor excluded, your company may lose the sole remedy provision of the Workers' Compensation Act. Then your own WC policy could have to pay and/or you could face a costly civil lawsuit. If your subcontractors do not carry WC, you will be charged premium on audit as if these workers were your own employees. Be sure to require a certificate of insurance evidencing WC coverage before letting other contractors do work for you.
A waiver of subrogation should be required by subcontractors on general liability, business auto, and WC. Consult your risk advisor to learn more about the recommended wording.
As you enter into contracts on your projects, it is critical to understand the risks involved – those you are being asked to assume and those you are trying to transfer. Though this list of strategies is not all-inclusive, it provides guidance on what to consider as you establish contracts with your subcontractors to appropriately and effectively transfer risk.