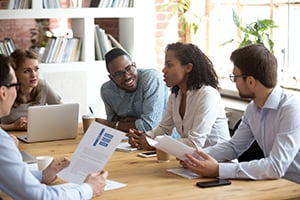 We all struggle to get ahead of the talent challenges of today's workplace. At Gibson, we care so much about this topic that we have partnered with employee engagement software leader, Emplify, to bring insights and tools to the table as trusted advisors.

In this webinar, we'll be joined by Emplify CEO and Co-founder, Santiago Jaramillo, as he shares actionable takeaways to build your own personalized culture framework to help you not only mitigate culture challenges, but get ahead of them.

Date: Tuesday, November 19, 2019
TIme: 2:00 pm EST

Key Takeaways:
Create your own personal engagement action summary to help you build a strategy that aligns with your executive team.

Learn the top 5 best practices of a winning employee engagement strategy.
Hear real-life examples of companies that have put their employee engagement strategies into action.
See real data trends explaining some of the hardest culture challenges and how to craft your strategy to tackle them.