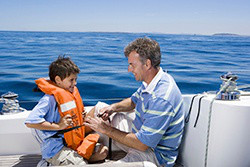 Regardless of your expertise on the water, proper boating safety should be followed every time you hit the water. Be sure to review these boating safety tips with any passengers on board to ensure everyone's wellbeing as well as reduce any risk to your insurance policy.
1) Learn to Swim
First and foremost, make sure you and your passengers know how to handle themselves in the water. Many organizations like the American Red Cross provide swimming lessons for all ages and abilities.
2) Use Common Sense
In crowded areas, operate at safe speeds. Always be alert and avoid other watercraft that may not have the means of stopping or turning quickly. To ensure your own boating safety, always stay mindful of buoys and other navigational aids.
3) Be Weather-Conscious
By checking the local weather reports before hitting the water, you can evade any bad weather that might be headed your way. It's best to stay off the water if you see darkening clouds, rough winds, or sudden drops in temperature that may signal less-than-fair weather.
4) Have a Pre-Departure Checklist
To prepare for any possibility on the water, following a pre-departure checklist ensures you're in compliance with fire, safety, state, and lake specific regulations. Precautions should be taken at all times to guarantee the safety of yourself and your passengers.
5) Designate an Assistant Skipper
With the assistance of another passenger who is familiar with boating safety, proper safety rules can be easily enforced. In case of your injury or incapacitation, there will be someone there to take charge and get everyone back to shore.
6) Develop of Float Plan
Before departing, be sure to let someone, either a family member or staff at your local marina, know where you're going and how long you will be gone. A float plan includes the following information: name, address, and phone number of trip leader; name and phone number of all passengers; boat type and registration information; trip itinerary; and types of communication and signal equipment onboard.
7) Life jackets
The U.S. Coast Guard estimates that life jackets could have saved the lives of over 80 percent of boating fatality victims. Assign each passenger a lifejacket prior to departure to avoid any victims of drowning.
8) Avoid Boating Under the Influence
By saving alcohol for the shore, your risk of a boating accident is severely reduced. The probability of being involved in a boating accident doubles when alcohol is involved and studies have also shown that the effect of alcohol is intensified by external effects like sun and wind.
9) Take a Boating Course
Boater education varies by state, some requiring a validated completion of at least one course. A boating course is necessary for beginning and expert boaters alike to stay familiar with boating safety rules of operation. There are plenty of online tutorials available as well as local community courses.
10) Consider a Free Vessel Safety Check
The US Coast Guard offers free boat examination to verify the presence and condition of certain safety equipment required by State and Federal regulations. Their specialist will check your boat and make recommendations to maximize safety.
A review of these tips, as well as individual insurance policies, will help you have a safe and enjoyable ride with minimal risk. Always be sure to practice the safest boating habits for you and your passengers every time you leave the dock.