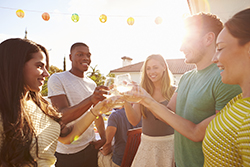 Fall is my favorite time of the year. The crisp temperatures and awesome views of the changing leaves are just a couple of reasons. Fall also brings the month of October, which happens to be National ESOP Month. It might not technically be as good as Christmas, but October is a great month for us at Gibson! We celebrate our GESOP throughout the month.
Yes, we celebrate our GESOP in the other months as well, but typically we have one ownership-related activity each month. In October, we have an ownership activity each week. One week, we're bringing in Dairy Queen treats with themes of "How Sweet It Is To Be An Employee Owner" and "It's A Treat To Work At Gibson". Another week, we're playing GESOP bingo, where all winning cards will go into a drawing for a really cool prize.
And then we have our grand event – GESOPtoberFest! It's an all-agency event where we shut down all four of our offices for a few hours to spend time with each other celebrating employee ownership. The theme of the event this year is tailgating. We'll have hot dogs, a chili cook-off, and a beanbag toss tournament. It's truly a terrific time where everyone can relax and have a little fun. We work really hard, but it's important to play sometimes too.
All of these GESOP festivities in October are fabulous. But we found out recently that our October this year is even better. Gibson was fortunate enough to be named a Top 10 firm nationally – on the Principal Top 10 Best Companies for Employee Financial Security list. Wow! A Top 10 firm nationally! That's a big deal, and we're proud to be held in such high esteem to be recognized by Principal.
I know first-hand how much effort has gone into creating a better retirement for our employee owners. It's gratifying for me personally, having been with Gibson for over 14 years, I feel very paternalistic about our culture.
We've always provided a top-shelf 401(k) plan for our staff, with a rich company match. But when we formed the GESOP in 2010, and shared ownership with each employee of Gibson, we created the opportunity for everyone to accumulate more wealth for their golden years. This happens because the GESOP, as a nearly 30% owner of Gibson, receives its proportionate share of any profit sharing contributions as well as its share of corporate distributions. And with the company match now going to the GESOP in the form of Gibson stock, when the agency does well, all our employee-owners reap the benefits in their GESOP accounts too.
The GESOP has been a galvanizing force at Gibson. We all get it. We all row in the same direction. We're all owners. That's the power of an ESOP.
It's National ESOP Month – Gibson is celebrating it. You could be too. Have you considered an ESOP for your company?