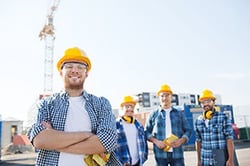 It can be a challenge in of itself to find quality talent. But once you hire those individuals, do you struggle with retaining them? Employee retention is a costly issue facing many contractors.
Once you attract and hire talented employees, you need to take action to create a culture where they want to stay. A more focused plan and effort on engagement and retention can go a long way.
In a discussion with Anne Lowry of Reach360, we found the following factors to be impacting employee retention in the construction industry. These are a few behaviors that make the difference between a contractor having trouble with retention and one who is successfully overcoming the issue.


Company Culture And Employee Perceptions
We all know company culture is important to improving employee engagement. But are you aware of how your employees perceive your culture? Have you ever asked them? You could create an employee survey to help gauge their perceptions and identify areas needing improvement. Or perhaps consider stay interviews where you ask questions to learn why your employees are staying and what might cause them to leave your organization. Don't just ask the questions – be it in a survey, stay interview, or other format – you also have to act on the feedback. If you don't make an effort to consider your employees' suggestions, they're likely to start disengaging.


Managers And Supervisors
People leave managers, not companies or jobs. The percentages vary in research, but reports consistently find the top reason individuals leave their jobs is because of their manager. In a series of exit interviews conducted by one contractor seeking to understand turnover, a common root cause for employees leaving the company was found to be the relationship with field supervision and jobsite superintendents. Are you training your supervisors and superintendents? Are you providing them with the tools to lead and engage their team? This training shouldn't be a one-time thing. Offer ongoing support and training to ensure your supervisors are prepared to lead.
Educate your supervisors on managing a multigenerational workforce. They are likely overseeing baby boomers, gen X'ers, and millennials. Physically demanding work coupled with an aging construction talent pool is necessitating the hiring of young talent, most of which are of the millennial generation. Millennials currently represent over 20% of the workforce, with that number expected to grow rapidly over the next 5 years. Investing time to learn how best to work with this generation will be critical.


Clarity, Transparency, And Communication
These are key elements to engagement. Are you clear with your expectations of employees? Do you communicate these with them from day 1? Do you recognize high performers? Are you being clear and transparent when you notice a performance issue?
In the construction industry we often see that some middle managers don't like telling people how they are doing. They shy away from those types of conversations. But they are crucial to retention and engagement.
If an employee is performing well, don't wait until an annual performance review to let them know. Employees want to feel appreciated. Find ways to share your appreciation and thanks throughout the year. It could be as simple as a supervisor sharing a compliment with the individual.
And on the flipside, if an employee's performance is subpar, don't let the first time you address the issue with them be in their annual performance review. A performance review should not contain anything that is a surprise. Supervisors should be communicating with employees as they see issues arise.
This list is not all inclusive, but it can help point you in the right direction towards improved employee retention.
We know you're likely spending significant time and energy on recruiting top talent, but make sure you're also paying attention to how your organization is working to retain those employees. What good does it do to recruit quality candidates if they don't stay with the company?