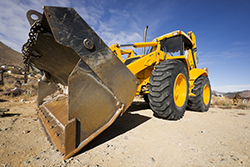 Theft, fire, collision, upset, and overturn all threaten the equipment you depend on to deliver projects on time and within budget. Direct losses from contractor's equipment are estimated to be over $1 billion annually. Even if just one piece of equipment is damaged or out of service, it can significantly impact your project's timeline and cause productivity to suffer. What can you do to protect your equipment and control losses?
Covered Equipment
When your risk advisor discusses contractor's equipment, they are referring to equipment that is owned, leased, rented, borrowed, or loaned. This is not only what is on your jobsite, but also includes when these items are in transit to or from the jobsite and while leased or rented to another party.
A variety of equipment types are included - from those used for materials handling, site improvement, and earth moving, to miscellaneous items such as compressors, hand tools, and generators.
Common Causes Of Loss
Losses to contractor's equipment can come from a variety of sources such as:
Theft or vandalism – often occurring on unsecured jobsites or remote locations
Damage when equipment is in transit to or from a jobsite
Fire – such as a fire in a warehouse could damage equipment stored inside or poor maintenance could lead to equipment fire
Upset or overturn – often caused by uneven load lift, unstable footing, etc.
The result of inattention, oversight, lack of training, or even drug or alcohol use.
Strategies For Loss Control
Proper training is essential to combatting these common losses. From training on the intended use of equipment to making sure employees understand inspection checklists and security procedures. This type of education should not just be done during orientation but on a recurring basis to ensure employees understand the use of equipment and the related procedures.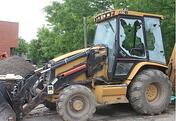 In regards to theft and vandalism, the following are a few points to consider. This list is by no means all inclusive, but it can help get you thinking about how to properly protect your equipment and jobsite.
Is there adequate lighting on the jobsite to help deter theft?
How are materials and equipment stored? Are they kept in facilities with lockable doors? Do you have procedures in place to make sure the locks are secured each evening?
Have you immobilized heavy equipment with high security locks and chains? Who has access to the keys?
Contact the local police prior to starting the job and request the jobsite to be added to their patrols. Also provide them with the names and phone numbers of key personnel who should be contacted in case of an emergency.
Use security fencing to protect the perimeter. Keep the numbers of entrances and exits to a minimum.
Especially if the jobsite is located in a high crime area and/or the equipment is very valuable, consider using alarms, surveillance systems, and security guard services.
Equipment Rentals & What To Consider
More contractors have turned towards equipment rentals in recent years due to the uncertain construction climate since the recession. When renting equipment, what do you need to consider? The following is a list of items to get you thinking about potential coverage gaps and loss exposures:
What are the terms of the rental agreement?
In the event of damage to the equipment, who is responsible?
Are you renting with or without an operator?
Do you have rental reimbursement coverage?
What is the value of the rental? Are your limits adequate?
Is the loss settlement valuation "replacement cost" or "actual cash value"?
Are you required to provide additional insured status?
Are you required to provide a waiver of subrogation?
Are you required to evidence auto liability insurance?
Have you considered workers' compensation requirements?
Potential Coverage Gaps With Borrowed Equipment
Similar to rental equipment, there are common loss exposures faced by borrowers of contractor's equipment.
A contractor who borrows equipment can be held liable for damage to the equipment, even if there is no contractual agreement to that effect. What's worse – a general commercial liability policy contains exclusions for borrowed equipment in the contractor's care, custody, and control.
In addition, the owner of the equipment may not have coverage under his or her own contractor's equipment policy because of the exclusion of equipment rented or loaned to others.
In most cases, contractor's equipment policies can be endorsed to include coverage for the borrowing, renting, loaning, and leasing of equipment both to and from others. The policy structure, however, must match the contractor's exposure. Otherwise the possibility of a coverage gap exists.
Given the increase in equipment borrowing, renting, and leasing, it is recommended that you consult your risk advisor to discuss the proper coverage structure to eliminate the possibility of coverage gaps in the event of a loss.