Today we're sharing insight from guest blogger, David Mann, Managing Partner at The Firefly Group. We hope you enjoy David's wisdom and perspective.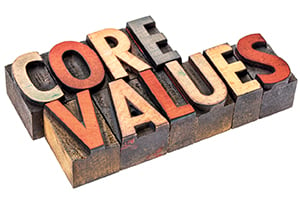 About a year ago, I had the opportunity to introduce The Firefly Group and our team to a room of 200+ talented, inspiring, go getters who are making a positive difference in the world. It is always my desire to deliver my message in a way that hits its mark, but with this particular group I had an increased desire to leave a positive impression as we had recently formalized our partnership and were meeting the broader team for the first time.
At the end of my introductory remarks I was asked several questions. I was feeling pretty good until someone asked - "Tell us your firm's core values?" Embarrassingly, with a deer in the headlights expression on my face and my mind going completely blank, I looked at the person asking the question and had to admit that I could not name a single one of them. Spending the next couple of days ruminating on this experience, I continued to ask myself - do our core values actually mean anything or are they just something we tell people we have and hang on the wall? If I can't name them, how in the world could I possibly be living by any of them?
At our team meeting the following week, I apologized for letting our team down by not representing them the way I would have hoped. I vowed to do better but didn't necessarily know where to begin. Because of my failure, our team held an offsite and undertook an exercise to re-evaluate our core values and what they really mean to us. We started by having a robust discussion about our priorities both personally and professionally. This helped us to dig deeper into what really matters in our lives individually and better understand our relationship with one another. It caused us to do some real soul searching and required us to have a new level of vulnerability.
We also challenged each other's commitment to living out these values. We had to ask ourselves what does it actually mean to "live our core values" – taking them from words on a page and into our daily lives. It started with a creating set of core values that truly resonate deep inside us. We now feel like they are part of who we are and our DNA as a team. Because of that, it has become much easier to remember.
Additionally, we have adopted several ways to help us keep these values at the forefront:
At our weekly meeting we recognize members of our team who we have experienced living out a particular core value.
Each quarter, we review our values to ensure they still hold true. We talk about ways we may not have lived our values over the past quarter, both individually and collectively. When we fall short, it can be tough to hear, but we know it is all for the greater good.
When we introduce our firm to others we will often share our core values, what they mean to us, and how we try to live them. We try to offer specific, concrete examples as well.
If we ever cross paths and you want to test me to see if I actually know our core values or, more importantly, want to see if I am attempting to live them, here they are –
Do The Right Thing
Compassionate Accountability
Humble Confidence
Balanced Drive
Bold Action
What's The Risk?
It has been said that values determine culture, culture determines behavior, and behavior determines outcomes. More than ever, I believe this to be true. Jim Collins, author of Good to Great, spent six years researching organizations that have had lasting success during good and bad economies and across decades. He found that in every instance these organizations defined their core values in the early days and built their culture around them.
Creating an organization that bases its foundation on a set of core values is the fundamental building block for future success. I recently heard someone say, "We don't want to create a culture where we 'retain' our talented people, but a culture that is so positively contagious that they wouldn't want to go anywhere else." We want these values to clearly come out of our pores in a way that attracts others who resonate with these same values.
We are not perfect at any of this, but we continue on the journey. How we got to this place was not necessarily pleasant. But I know I am ultimately better for it and our core values now better represent who we are and how we want to live our lives.
This content was written and shared by guest blogger David Mann.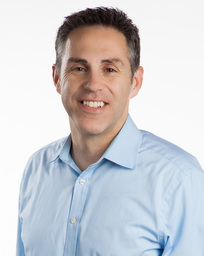 David's background includes leadership, operations, entrepreneurship, and investment experience. Prior to co-founding The Firefly Group, David co-founded Spring Mill Venture Partners, a venture capital firm. Previously, he worked with ServiceMaster Ventures and served as a founding member of the ServiceMaster Home Service Center, a joint venture between Kleiner Perkins and ServiceMaster. David began his career as an officer in the U.S. Navy. He serves on a number of non-profit boards and is an adjunct faculty member at Indiana University, Kelley School of Business (Indianapolis).
Connect with David via LinkedIn. Connect with The Firefly Group via their website and LinkedIn.