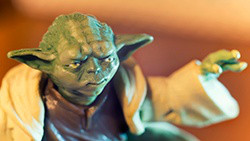 When you think of disaster recovery and business continuity planning, do you think about the size of your business and whether or not it's worth the time to create a comprehensive plan? Let's answer this question with a question from none other than the great Yoda: "Judge me by my size do you?" If you recall the impetus to this question, Luke Skywalker had just failed at raising his X-Wing from the Dagobah Swamp because it was too big, or so he thought.
The same Yoda-ism holds true when thinking about business continuity planning. "Size matters not." In fact, I would caution that smaller business need business continuity planning just as much - if not more - than larger businesses. A 2016 study by Aberdeen Group states an hour of downtime costs $260,000 on average. This is a 60% increase since their 2014 study.
As a risk manager with 20+ years in helping clients navigate catastrophic claims situations, I have seen businesses of all sizes struggle with picking up the pieces after disaster. My experience has shown me that smaller businesses typically do not have the resources to recover from the disaster as larger businesses sometimes do.
Let's use a small fire in an office or manufacturing facility as an example. The fire causes an estimated $100,000 in smoke and minor building damage, as well as water damage from putting out the fire. A medium to large-sized company may have the resources to move forward with clean-up and restoration without waiting for insurance adjusters to inspect the damages and the subsequent proceeds from their policy. But small organizations typically do not have the cash flow needed to move as quickly.
But having the cash flow doesn't necessarily mean a business can recover quickly enough. Larger business can have a lot of complexity and moving parts. Having a written, communicated, and tested plan can ensure the recovery process flows smoothly. Likewise, just because a small business may not have the cash flow, doesn't mean they don't need a business continuity plan. In fact, having a strong plan can be the framework to ensure the business stays afloat until the insurance adjuster can issue advances on the insurance claim.
Regardless of size, an estimated 25% of businesses do not reopen following a major disaster. Increase your odds of surviving a disaster by starting your business continuity plan today!