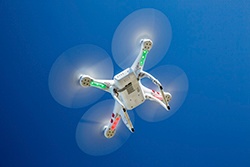 When you hear the word "drone" what do you think of? Twenty-five years ago, some of us might have pictured a male bee. Others may have thought of a low humming sound. Five years ago, almost all of us would have thought of military weaponry.
But as the applications for unmanned aircraft—drones—continue to expand, there may no longer be just one thing most of us picture. Some of us might picture farmers using drones to monitor their crops and irrigation systems. Others may think of scientists tracking and protecting endangered animals from poaching. Still others will imagine a media company launching a drone to get more comprehensive coverage of a sporting event, developing news story, or a documentary.
These are all ways people are currently using drones around the world. And as this sampling shows, drones—or unmanned aircraft systems (UAS) as they are more formally known—are useful and powerful tools for business and otherwise. They are here to stay. But with more and more things in the sky, there are more and more opportunities for incidents and accidents and the liability that goes with them.
What Goes Up Must Come Down
Based on reported accidents, injuries from non-military drone use have not been severe. Most injuries occurred when drones crashed into people. For example, drones at sporting events used to capture footage have crashed into spectators or athletes at the 2015 US Open, a University of Kentucky football game, and a triathlon in Australia. None of these have resulted in severe injuries. The most severe reported injury caused by a drone, appears to be when singer Enrique Iglesias sliced his hand after he grabbed a drone during a concert.
But the risk of more severe injuries is real. A medical helicopter in California had a near miss with a drone that could have caused the helicopter to crash. Drones operating over this year's wildfires in California caused those battling the fires to ground aircraft that could have improved the firefighting effort. And the Federal Aviation Administration (FAA) has consistently expressed concern about drones operating in the flight paths of airplanes taking off or landing due to the risk of bringing down a commercial flight. So using a drone—for personal or commercial purposes—requires some attention to safety.
When fitted with cameras, drones also present potential liability for invasion of privacy. Specifically, people who are photographed in their homes or other private locations without permission may sue the photographer. Similarly, businesses cannot use a person's likeness without permission. So you need to be careful where you point a drone's camera.
A "Preflight Checklist" For Drones
If you do decide to use a drone or allow someone to use a drone on your property, insist on some basic safety measures. With no current FAA regulations governing drones*, there are few formal safety requirements for operating a drone. But the FAA has offered some recommended guidelines for drone operators and common sense provides a few others. Putting them together, here is a basic—though not exhaustive—list of safety measures:
Don't fly the drone more than 400 feet above the ground;
Keep the drone within the operator's line of sight;
Do not operate the drone within 5 miles of an airport;
Avoid flying over areas where people have congregated;
Do not fly the drone at night;
Do not fly the drone within 25 feet of another person; and
Take off and land from a designated area free of people.
In addition, familiarize yourself with the legal requirements such as when a permit or license is required and whether your state prohibits drone flights over private property.
In The Event Of A Crash
But what if the drone crashes? Will insurance cover the operator?
Probably not if you're operating a drone for commercial purposes. Commercial general liability policies generally exclude coverage for damages "arising out of the ownership, maintenance, use or entrustment to others of any aircraft." And a drone is an "aircraft." Coverage is available under a stand-alone policy or by endorsement to the general liability policy for a charge. So if your business uses a drone in its operations, you should talk to your risk advisor to make sure you're covered.
If you personally own a drone for recreational purposes, on the other hand, you may be covered. Under a standard homeowners policy, the term "aircraft" does not include "model or hobby aircraft not used or designed to carry people or cargo." But many insurance companies have crafted their own policy forms. So don't just assume you're covered. Talk to your insurance advisor and confirm you're covered.
Touchdown
Whether for fun or for money, drones have become a permanent fixture in our skies. Although they are not as dangerous as their military counterparts, modern drones aren't harmless bees either. So before you take to the skies, make sure you understand and commit to follow basic safety guidelines and that you have adequate insurance coverage. Doing so will help assure many happy landings.
*UPDATE: Effective August 29, 2016, the FAA issued a rule regarding small drones for commercial use. For more details, click here.