Today we're sharing insight from guest blogger Charles Rogel, Senior Consultant & VP of Product Development at DecisionWise. We hope you enjoy Charles' wisdom and perspective.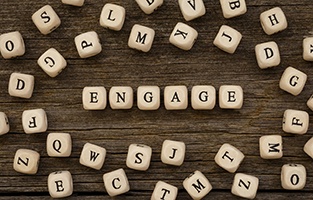 I work with many organizations to measure and improve employee engagement. The process typically begins with the collection of employee feedback through an engagement survey. The survey includes about 50 items measuring perceptions of the job, team, supervisor, and organization overall.
Most organizations score low on top-down communication, cross-department communication, and responding to employee ideas. Questions about teams or supervisors generally score high with some pockets of under-performing groups. While action planning, executive teams usually become pre-occupied with poor organization scores and begin brainstorming ways to improve the employee newsletter, conduct town halls, or plan the summer party.
But when we look at the drivers of employee engagement, a different story appears. Items highly correlated to increasing employee engagement include those about the employee's team and supervisor. Looking at our entire database from 2017 shows nine items from the Team and Supervisor sections that show the highest correlation to engagement. These items evaluate general concepts around teamwork and good supervisor behaviors. To give you an idea, three of these items are:
"The people on my team collaborate and help each other."
"I enjoy working with the people on my team."
"I clearly understand what my supervisor expects of me."


The Influence Of Managers On Employee Engagement
The influence of team and supervisor interactions on engagement is not surprising. In a separate study, DecisionWise found that the engagement levels of managers are similar to the engagement levels of the teams they manage. Looking at employee engagement survey results from 18,913 employees and 2,300 managers in 22 companies, the research first identified the engagement levels of individual managers and the teams they manage.
Next, employees and managers were placed into four categories of engagement from Fully Engaged to Fully Disengaged based on their engagement survey scores. Each employee group was then organized by the level of manager engagement. For example, the highest percentage of Fully Engaged employees are led by Fully Engaged managers (38 percent), while the highest percentage of Fully Disengaged employees are led by Fully Disengaged managers (22 percent). The results of the study show a strong relationship between a manager's level of engagement and that of his or her direct reports.


Engagement As A Leadership Competency
So how do managers increase the engagement of the employees they lead? Ultimately, it comes down leaders practicing specific behaviors that help employees engage in their work. Engagement is a skill that can be learned. At a high level, engagement behaviors include:
Being engaged as a manager
Demonstrating drive and commitment in the work
Creating a motivating environment
More specifically, managers need to influence the five drivers of employee engagement: Meaning, Autonomy, Growth, Impact, and Connection (MAGIC). These drivers are necessary for employees to fully engage and perform at their best. Here are some examples of leadership behaviors that influence each engagement driver:
Meaning: Help employees align with the organization mission and goals.
Autonomy: Empower employees to make decisions on how their work is done.
Growth: Encourage employees to meet their development goals.
Impact: Help employees see how their work contributes to the success of the company.
Connection: Establish a collaborative and respectful team environment.
This list is just a start, but it helps to build a competency framework that managers can use to measure and improve their ability to engage their teams.


What's The Risk?
Employee engagement drives performance and retention but most managers are ill-equipped with the knowledge and tools they need to create an engaging environment. Poor leadership practices like micromanagement or perfectionism stifle employee engagement and performance when left unchecked. Leadership competencies provide managers with a framework of behaviors that they can learn and practice to engage their teams. After looking at employee survey results, organizations frequently ask, "Where should we focus our energy to improve engagement?" My response is that the best investment you can make is in the development of your leaders and their ability to engage their employees.


This content was written and shared by guest blogger Charles Rogel.
Charles Rogel is a Senior Consultant and VP of Product Development at DecisionWise, a management consulting firm that specializes in employee feedback and leadership development. He works with organizations to measure and improve employee engagement as well as coach leaders to improve performance.