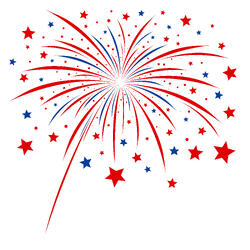 As you get ready for barbeques, pool parties, and fireworks to celebrate our nation's independence, take some time to remember the importance of fireworks safety.
Injuries from fireworks occur throughout the year, but there is a significant increase around the Fourth of July. In fact, the U.S. Consumer Product Safety Commission (CPSC) reports that 60% of all fireworks injuries occur during the 30 days around Independence Day. Over half of these injuries are burns to the face, head, and hands.
Fireworks also pose a risk to your property. According to the National Fire Protection Association, fireworks caused approximately 17,800 reported fires in 2011. Of these fires, 1,200 were structure fires, 400 vehicle fires, and 16,300 outside/other fires. An estimated $32 million in direct property damage resulted.
How can you celebrate safely this Fourth of July?
Know The Laws
It's important to understand both state laws and local ordinances before you purchase or use fireworks. There are often restrictions to the types of fireworks allowed, the days and time of day they can be lit, as well as the locations in which they can be set off. These restrictions significantly vary from state to state and within local governments. Even if you have used fireworks in your location before, be sure to check for changes to the ordinances. Michigan, for example, just passed a new fireworks law in 2013 to dramatically change their rules.
Local laws may also change depending on the weather conditions. During droughts, many local governments place a ban on fireworks use. Such was the case in several Indiana towns and counties in summer 2012.
For details regarding the laws for fireworks in Indiana visit Indiana Department of Homeland Security and for Michigan visit LARA/Bureau of Fire Services. If you are travelling to another city or state, make sure you take time to understand the laws specific to the location you are visiting.
Fireworks Safety Tips
Never allow children to handle fireworks
Keep a bucket of water or a hose nearby
Do not try to re-light, alter, fix, or pick-up any fireworks that may have not fully ignited
Light one firework at a time
Only purchase fireworks from licensed fireworks dealers
Never aim, point, or throw fireworks at someone
Use a clear, open space to light fireworks
Be cautious of lighting any fireworks during strong wind conditions and light fireworks with prevailing wind blowing away from spectators, homes, buildings, and cars
Store fireworks in a cool, dry place. Make sure they are out of reach of children
Drinking alcohol and using fireworks do not mix
Do not smoke when handling fireworks
Even Sparklers Are Dangerous
Don't think that injuries are only caused by the larger, more elaborate fireworks. Sparklers can burn at 2,000˚F - that is as hot as a blow torch! The majority of sparkler injuries occur with young children. These injuries are easy to avoid with proper adult supervision and following these safety tips from the National Safety Council on fireworks safety:
Children under the age of 12 should not use sparklers without very close adult supervision.
Always remain standing while using sparklers.
Never hold a child in your arms while using sparklers.
Never hold, or light more than one sparkler at a time.
Sparklers and bare feet can be a painful combination. Always wear closed-toe shoes when using sparklers.
Sparkler wire and stick remain hot long after the flame has gone out. Be sure to drop the spent sparklers directly into a bucket of water.
Never hand a lighted sparkler to another person. Give them the unlit sparkler and then light it.
Always stand at least 6 feet from another person while using sparklers.
Never throw sparklers.
Show children how to hold sparklers away from their body and at arm's length.
Teach children not to wave sparklers, especially wooden stick sparklers, or run while holding sparklers.
Remember fireworks safety as part of your personal risk management strategy. As you gather with friends and family to celebrate the Fourth of July, keep safety a priority!