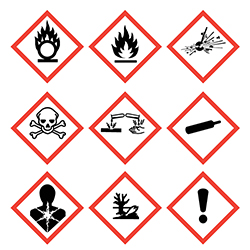 Exposure to hazardous chemicals is a serious threat to workers. Employees have the right to know what chemicals are being used, their hazards, and how to safely handle them. OSHA's Hazard Communication Standard is intended to "improve the quality and consistency of hazard information, making it safer for workers to do their jobs and easier for employers to stay competitive," as described by former U.S. Secretary of Labor Hilda Solis.
The standard was revised in 2012 to line up with global guidelines. But the hazard communication standard remains one of the most frequently cited, coming in at #2 on the 2014 list with 5,161 violations.
What can your company do to ensure you are meeting this standard and protecting your workforce from exposure?
Who Is Responsible For What?
Chemical manufacturers must:
Determine a chemical's hazards
Provide labels and material safety data sheets (MSDSs)/safety data sheets (SDSs)
Employers must:
Provide a hazard communication program
Maintain MSDSs/SDSs
Train on hazardous materials
Employees must:
Read labels and MSDSs/SDSs
Follow employer instructions and warnings
Identify hazards before starting a job
Participate in training
Implementing An Effective Hazard Communication Program
OSHA outlines the following 6 steps for employers to create an effective hazard communication program:
Step 1: Learn the standard and identify responsible staff.
Obtain a copy of

OSHA's Hazard Communication Standard

.

Become familiar with its provisions.

Make sure that someone has primary responsibility for coordinating implementation.

Identify staff for particular activities (e.g., training).
Step 2: Prepare and implement a written hazard communication program.
Prepare a written plan to indicate how hazard communication will be addressed in your facility.
Prepare a list or inventory of all hazardous chemicals in the workplace.
Step 3: Ensure containers are labeled.
Keep labels on shipped containers.
Label workplace containers where required.
Step 4: Maintain SDSs.
Maintain safety data sheets for each hazardous chemical in the workplace.
Ensure that safety data sheets are readily accessible to employees.
Step 5: Inform and train employees.
Train employees on the hazardous chemicals in their work area before initial assignment, and when new hazards are introduced.
Include the requirements of the standard, hazards of chemicals, appropriate protective measures, and where and how to obtain additional information.
Step 6: Evaluate and reassess your program.
Review your hazard communication program periodically to make sure that it is still working and meeting its objectives.
Revise your program as appropriate to address changed conditions in the workplace (e.g., new chemicals, new hazards, etc.).
Additional Resources
Your employees have a right to know about the hazardous chemical they use on the job and how to work safely with those chemicals. Take time to fully understand the standard and to make sure you are meeting its' requirements. Remember, following the standard will help ensure the safety of your employees when working with hazardous chemicals!