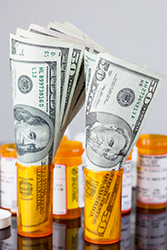 What was the price of a gallon of gas this morning on the way to work? You could probably easily rattle off the answer. Big neon signs outside convenience stores on numerous street corners make this request pretty simple. But do you know what your monthly prescription costs are? Or the total price of a simple visit to your family doctor?
Unfortunately a majority of Americans would probably struggle to answer these questions. Most people would say it's the amount of their health insurance. But this is only part of the overall cost. In a third party payer system, shadowed by copays and very opaque pricing, most people honestly don't realize the true cost of their health care.
Providers are able to charge a wide variance of pricing without consumers thinking twice about the true price tag attached. No wonder health care makes up almost 18% of the United States' Gross Domestic Product, with no immediate decline in sight!
In our blog on CDHPs, the phrase price transparency was described in a general sense. When true price transparency exists, providers compete on price and quality to persuade a customer to pursue their services. Without customers having the ability to compare quality and price, providers are able to charge higher prices, without necessarily improving quality. The compounding effect of higher prices without guarantee in increased quality has been a driver of our current environment. It's created spiraling costs and a call for widespread reform in the world of health care.
"Grocery Store" Comparison
To put it in perspective, when you walk into your local grocery store, items of similar quality and characteristics are placed and priced within close proximity. You wouldn't expect someone to buy a $10 gallon of milk, when a $3 gallon of milk is sitting two feet away, would you? In using a real example in the Northern Indiana region, MRIs can range anywhere from $500 - $2000 depending on the provider, for the same procedure. If we had a "grocery store" environment, simple math would tell us that the $2000 MRI would need to be 4 times the quality to be viable in the marketplace. Unfortunately, with the nature of health care, these comparisons aren't necessarily as easy as they are for a gallon of milk.
How Can Consumers Compare Costs And Quality?
Realistically, do we expect medical providers to have a restaurant-type menu of prices and services in their lobbies and on their websites? Not likely. But can we make the prices more accessible to the public? Absolutely.
So the next logical question is HOW can we get to a point of true price transparency in health care? Many insurance carriers and independent companies have made large strides. Below are some ways the consumer can compare costs and quality.
Carrier Websites
Health insurance carriers have created many "value-adds" for consumers to help improve overall savings and satisfaction. Members are able to go online to carrier websites and search by provider, service, geographic location, and other parameters to view quality ratings and customer reviews. Also, these searches can pinpoint in-network providers to make sure that savings are maximized.
Make the Call
With the advanced technologies available in our world today, consumers sometimes overlook the value of a simple phone call. Call your doctor and ask him how much a routine checkup or procedure actually costs. You may be surprised at the answer.