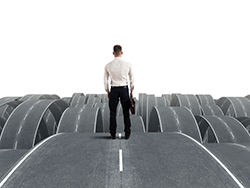 Health care costs are higher than ever before and they aren't going to get any cheaper. According to a study by the Centers for Medicare and Medicaid Services, health care spending in the United States is expected to total $4.8 trillion by 2021. Wow. How are we, the "consumers", going to slow down this ship? There is no one answer to this question, but there are several ways employers can help play a role.
Educate
With rising health care costs and the changes brought about with the Affordable Care Act, staying educated is more important than ever. Consumer-Driven Health Plans (CDHPs) continue to evolve as a solution to help control costs by transforming disengaged employees into intelligent consumers. As this happens, the more important it is to become proactive and educate your employees. This starts with the employers. Employers must first take the time to learn the information and consult with insurance advisors to acquire the necessary data and tools to bring back to employees.
Yes, there will be a percentage of your workforce who don't care what's going on with health care and aren't interested in learning how to become a true "consumer." But as time goes on, and the more "skin in the game" they get, who do you think they are going to look to? Their employers! A study conducted by MetLife found more than half of those surveyed agreed they need more help understanding how their benefits work.
A report by the Institute of Medicine estimated that in 2009 a total of $750 billion was spent on unnecessary health costs. By educating employees, and providing them with useful tools and information to make better decisions, the wasteful spending can slowly be tackled.
Equip
Where do you find tools? There are numerous websites and vendors that provide credible information on the quality and cost of services. These patient advocacy services help inform employees on cost and quality of their health care purchases in order to make the best decisions for their needs and goals.
Insurers are also gaining traction with better tools. Consult with your carrier and advisor for resources for your workforce.
Encourage
Educating and equipping your employees is important and are the first steps in the process, but it can't stop there. As an employer, it is vital to take the next step to find a way to encourage and engage your employees to embrace being a true "consumer." The whole idea behind CDHPs is to engage people into becoming true consumers and utilizing transparency tools to make better decisions.
As we continue in our everyday lives, and as health care evolves, it's important to remember the following equation, created by the American Institutes for Research: "a health care-savvy workforce + high-value health benefits = a healthy workforce AND company."