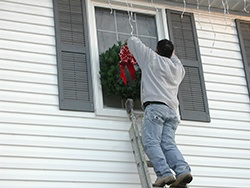 Not only do the holidays come with yummy sweets and the risk of a few extra pounds, they also pose safety hazards by increasing the risk of fire and injury. Each year fires occurring during the holiday season injure nearly 3,000 people and cause over $900 million in damage. So our wish for you is to save any burning for the few extra pounds and have a safe holiday season by following these important tips:
Christmas Trees
Pick out a freshly cut Christmas tree – one that is too dry can easily catch fire. Trim at least one inch from the bottom of the tree; this will increase the tree's ability to absorb water. Live trees need a lot of water so check the water level and refill often.
Place the tree in a secure stand designed to hold the weight of the tree. Never place a Christmas tree near a heat source such as a fireplace, radiator, or stove. Do not use candles to decorate a tree. And never go near a tree with an open flame such as a candle, lighter, or matches.
Dispose of the tree when it becomes dry, or when the needles begin to fall off in large quantities. Never burn old trees or needles in a fireplace or wood-burning stove. Instead, take it to a recycling center or have it removed by a community pick-up service.
If you buy an artificial tree, make sure that it is made of fire-resistant material.
Decorations And Lights
Do not overload electrical sockets by plugging too many cords into a single outlet. Always unplug holiday lights when no one is home or when everyone goes to sleep for the evening. Use only Underwriters Laboratories (UL) approved lights. Inspect old light strands for any cracks, frayed edges, or bare spots. Throw out any damaged cords.
When decorating a tree with lights, fasten them securely to the tree. Check wires regularly. If they become warm, unplug the lights immediately.
Never use indoor lights outside. They are not designed to withstand the elements and if they get wet, can cause an electric shock. Remove outdoor lighting as soon as the season is over. Even specially created outdoor decorations are not designed to withstand prolonged exposure to the elements.
Do not block exit paths to doors or fire escapes with Christmas trees or other decorations.
Children And Pets
Poinsettias are known to be poisonous to humans and animals, so keep them well out of reach, or avoid having them.
Keep decorations at least 6 inches above the child's reach.
Avoid using tinsel. It can fall on the floor and a curious child or pet may eat it.
Keep ribbons on gifts and tree ornaments shorter than 7 inches. A child could wrap a longer strand of ribbon around their neck and choke.
Avoid mittens with strings for children. The string can get tangled around the child's neck and cause them to choke. It is easier to replace a mitten than a child.
Do not leave a child or pet unattended around space heaters or the fireplace.
Store scissors and any sharp objects that you use to wrap presents out of your child's reach.
Inspect wrapped gifts for small decorations, such as candy canes, gingerbread men, and mistletoe berries, all of which are choking hazards.