Today we're sharing insight from guest blogger Brad Serf, Principal at Gibson. We hope you enjoy Brad's wisdom and perspective.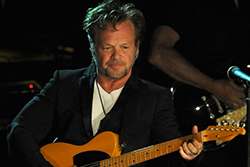 Many of us middle aged Hoosiers grew up listening to, and were influenced by, singer songwriter John Mellencamp. With 40 million albums sold worldwide and a career spanning 3 decades, John was inducted into the Rock and Roll Hall of Fame in 2008. At the age of 62, in support of his 22nd full album, Mellencamp will tour once again in 2015 with tour dates booked in 3 of our 4 office locations South Bend, Fort Wayne, and Indianapolis. If I could only get him to play a show in my home town of Plymouth, IN we would have the horse racing equivalent of a Superfecta!
John began writing music as early as 1974, with an ambition to "make a record." He had reached superstardom by the mid 80's. I for one am grateful to have had such an influential songwriter from the heartland come along just as I was maturing into adulthood.
While I didn't always agree with John's political views, I respect that he had the courage to express and defend his opinions. He taught me that political opposites can respect each other's views. There is even a lyric in his song Our Country: "try to understand other people of this land."
I could go on for paragraphs with many of my favorite Mellencamp lyrics. But as a middle aged business professional, I have recently found myself reflecting on how Mellencamp has continued to stay relevant and how he has continued with his masterful songwriting. In a competitive marketplace, businesses come and go, and the music business is no exception. Think of how many artists have come and gone since 1974, many of which reached superstardom at one point in their career.
At the height of John's fame he played sold out shows in large arenas, spanning multiple continents, night after night. I remember an interviewer asking him: "When the tour finally does end, whenever you let it end, what are you going to do?" Without having to think even for a moment, John replied: "I'm going to start writing songs, that's my next step…..another record… I have a lot of ideas for the next record."
Any guess to how long ago he said that? It was 1985 during his Scarecrow tour. For those of you my age, and "holding on to 16 as long as you can," let me remind you that was 30 years ago! I think it sums up his prolonged existence in the music industry. It has been said that to have a quarter century career, you can't just think about the last quarter or the next quarter. And John got that right very early in his career.
John's passion isn't limited to songwriting. He conceived a plot for a musical that was written by famed author Stephen King, titled "Ghost Brothers of Darkland County." King said of Mellencamp, "John's written a thousand songs and I've written a thousand books, but neither of us were ever content to just phone it in and keep doing the same thing." Pretty prophetic advice from King. And it provides further insight into John's longevity.
In a 2009 Dan Rather interview, Dan asked John to finish the sentence: "This I believe…" John's response was "We could all do better and people give up too early. Those are two things that I'm pretty certain of. Most people quit way too early in the race. And most people are not interested, for whatever reason, in doing the best job they possibly can. They want to quit early. If you're going to do it, and you tell somebody you're going to do it, you have to do it."
John likened himself to Sisyphus - rolling the rock up the hill, only to see the rock roll back down, then starting the process all over again (forever). With John's fame and notoriety, it would be easy to think that everything John has done turned to gold. But I'm quickly reminded of his song Golden Gates and the lyric: "aint no golden gates gonna swing open." We are here to work.
John was recently asked, "What haven't you done that you would like to try your hand at?" No surprise at his answer: "I'm still trying to write better songs, I'm trying get to a point where I can connect better with the listener. That's my goal."
To John Mellencamp I say "Thank You", another reference to one of his masterful songs.
What's The Risk?
Prosperity is often temporary. It is easy to get emotionally caught up in celebrating success only to lose one's edge. I think John is on point. I suspect the best shot at longevity requires an ongoing desire and passion to always do better. Perhaps he said it best in his song Minutes to Memories, "suck it up and tough it out and be the best you can".
We can do better – In times of prosperity it's easy to enjoy the rewards of one's success. As for Mellencamp, to this day he isn't satisfied with his work. He recently said "I still haven't written the quintessential album, I'm still in motion."
Don't be content with doing the same thing – It is conceivable that John could have had equal or greater success making pop hits his entire career but this is an undifferentiated space with arguably too many "pop singers." To have a place in music for 30 plus years John realized he had to do something different.
People give up way too early - John's philosophy is to always look up, look ahead, and don't pay too much attention to what success or failure has gone on the day before. Plans don't always turn out as hoped. There will be peaks and valleys, but never give up too early.
This content was written and shared by guest blogger, Brad Serf.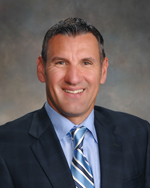 Brad is a principal at Gibson with responsibility for providing risk management and insurance services to business clients. He has earned the reputation for helping businesses increase profitability using GPS – Gibson Protection System.