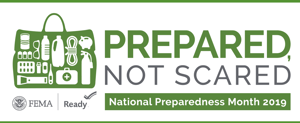 Prepared, Not Scared.
That is the theme for this year's National Preparedness Month. Annually, FEMA and other government organizations dedicate the month of September to educating individuals, families, businesses, and communities on the importance of taking action to prepare for emergency situations.The weekly themes include:
Week 1 (Sept 1-7) - Save Early for Disaster Costs
Week 2 (Sept 8-14) - Make a Plan to Prepare for Disasters
Week 3 (Sept 15-21) - Teach Youth to Prepare for Disasters
Week 4 (Sept 22-30) - Get Involved in Your Community's Preparedness
Though we hope you'll consider disaster preparedness an important aspect of your risk management strategy all year long, this is a great time to check on your planning – both personally and in your organization. We've gathered a collection of resources to help you develop, implement, and test your emergency plans.
Business Continuity And Disaster Recovery Planning
Is your company prepared to handle a disaster? Have you created a disaster recovery plan? Will you be able to get back up and running quickly after an emergency?
Ready.gov, a website run by the Department of Homeland Security, offers extensive resources regarding types of disasters and planning tools. Their business section is a great place to start. They also have several free publications available for download and geared towards business.
Don't forget about OSHA. An emergency action plan is required by some OSHA standards. OSHA's Evacuation Plans and Procedures eTool is one place to look. But it is important to find out what regulations apply to your specific industry, as well if your state has additional requirements.
We consider disaster planning a critical part of your risk management strategy, so we've created a variety of free downloaded resources on the topic that you'll find in our Knowledge Center and several #DisasterReady blogs.


Personal Disaster Preparedness
Is your family ready for a disaster? Do you have a plan in place? How will everyone get out of the house safely? How will you access important family records? Taking time to answer these questions BEFORE disaster strikes is critical.
Consider these 8 tips when preparing your family's emergency plan:
You'll find a wealth of knowledge and comprehensive resources through the U.S. government. Both Ready.gov and the America's PrepareAthon website are a great place to look to gather information about different types of hazards, tips for creating your emergency plan, resources for responding to a disaster, and more.
What about smartphone apps to help you and your family before, during, and after disaster strikes? The Disaster Information Management Resource Center has a detailed list of mobile apps to assist with disasters. Be sure to check out the FEMA App – not only does it have weather alerts, but it can help you find resources and shelters during and after a disaster. And the American Red Cross has a variety of apps available – from first aid information to severe weather tools and notifications.
Don't wait until a disaster or emergency strikes. Take action now to protect your family, your home, your organization. Create your emergency plan today.