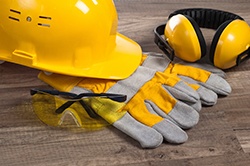 Each year OSHA releases the 10 most frequently cited standards. Many of the same standards have found themselves on this list in recent years. The penalty for violating these, and any, OSHA standards is about to increase for the first time since 1990.
The Federal Civil Penalties Inflation Adjustment Act of 1990 prevented OSHA from adjusting and increasing its fines to account for inflation. But on November 2, 2015, President Obama singed a budget bill into law – and that bill included a provision to remove this exemption, allowing OSHA to increase their fines.
The initial change will be the most significant, estimated at an 80% increase from the current levels. This will allow the fines to catch up from the past 25 years of inflation. In future years, OSHA will be allowed to increase its fines based on inflation.
The new fine amounts are expected to be officially released in 2016, and the adjustment must occur before August 1, 2016. The Wall Street Journal references workplace safety experts who predict the most severe citations to increase from $70,000 to $125,000 for willful violations, and other serious violations from $7,000 to $12,500. Again, no exact rates have been released, only speculation. Stay tuned as the changes unfolds and OSHA releases their official updates.
Taking proper precautions to avoid these commonly recognized hazards in your facility can not only protect your organization from the rising fines, but more importantly it can keep your workforce safe. Below you will find the most frequently cited violations for 2015, links to the standards, and useful resources.
To see the 2014 list, please click here.
Top Most Cited OSHA Violations For 2015
1

Fall Protection (Construction)

Violations: 7,402

1926.501

2

Hazard Communication

Violations: 5,681

1910.1200

3

Scaffolding
(Construction)

Violations: 4,681

1926.451

4

Respiratory
Protection

Violations: 3,626

1910.134

5

Lockout/
Tagout

Violations: 3,308

1910.147

6

Powered
Industrial
Trucks

Violations: 3,004

1910.178



7

Ladders
(Construction)

Violations: 2,732

1926.1053

8

Electrical,
Wiring Methods

Violations: 2,624

1910.305

9

Machine
Guarding

Violations: 2,540

1910.212

10

Electrical,
General
Requirements

Violations: 2, 181

1910.303
Top 10 Serious Violations For 2015
OSHA defines a serious violation as one "when the workplace hazard could cause an accident or illness that would most likely result in death or serious physical harm, unless the employer did not know or could not have known of the violation." Here are the top 10 serious violations for 2015:
Top 10 Willful Violations For 2015
OSHA defines a willful violation as "a violation in which the employer either knowingly failed to comply with a legal requirement (purposeful disregard) or acted with plain indifference to employee safety." Here are the top 10 willful violations for 2015:
Standard rank and number of violations data is from Safety + Health Magazine's November 2015 report.