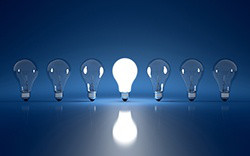 With power outages, don't think if, think when.
We are all susceptible to power outages. In fact, Agility Recovery tells us that 70% of businesses will lose power sometime in the next 12 months. But are we prepared to respond and recover quickly from a disruption? Unfortunately most businesses are not.
What causes power outages? Severe weather is the number one source. But there are many other causes – such as malfunctions at a substation, traffic accidents, a fire in a manhole, and even birds.
Power disruptions can be financial draining. Besides loss of connectivity, power outages can result in lost sales, limited or no productivity, delayed income or sales, increased expenses, customer dissatisfaction, irrecoverable data loss, and more. Though statistics vary, you can find data that reports the annual cost of power outages in the US as high as $150 billion.
To help you become more #DisasterReady, we've worked with Agility Recovery to offer a checklist about power outages and the use of generators.
In this checklist we take a look at what to do before an outage hits, preparing your site for generator power, generator safety tips, and how to respond during an outage.
Are you ready to get your business prepared to more effectively recover from power losses? Download our new resource: Power & Generator Checklist.