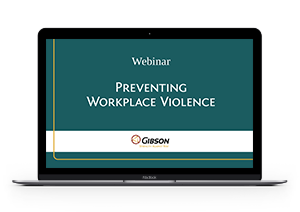 The threat of violence is a reality in the modern workplace. Each year, nearly 2 million U.S. workers report having been victims of workplace violence. And that is only the reported cases, unfortunately many other incidents go unreported.
The impact of workplace violence can be devastating. It's a serious threat to an organization's safety, security, business continuity, employee productivity, brand, and reputation. What can you do to prevent incidents in your workplace? And how can you be prepared to respond should tragedy strike?
Watch this on-demand webinar to hear our Director of Risk Management Services, Shawna Neilson, discuss these questions and more.
Ready to prepare your workplace for potential violence? Tune into the webinar to learn:
How to define and recognize workplace violence,
Strategies for becoming a more effective communicator to avoid workplace violence situations,
Best practices for developing a workplace violence prevention program, and
Tactics for responding should tragedy strike.