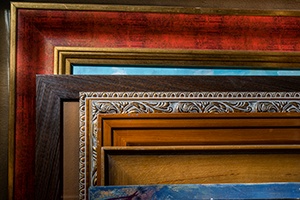 Whether you're an art enthusiast or have simply found a great piece of art to decorate your home, it is important to understand how to protect your valuables from the elements, theft, or unfortunate loss.

Storage
Where you display your artwork, and where you want to display your art work, could be two different things. Take into consideration the following before deciding.
Direct Sunlight
Over time, paintings and prints on paper or cloth will fade due to prolonged exposure to direct sunlight. While prints fade more quickly than acrylics on canvas, extreme exposure can cause any canvas to expand and slacken. Artwork on paper is especially at risk of cockling — a ripple or wave effect typically seen near the edges of the frame. Sunlight also causes matting to fade or burn itself into the paper.
Heat
Due to sudden heating and cooling, fireplaces, furnace registers or radiators, and kitchen stoves and ovens create an unstable environment for artwork. This perpetual cycle puts stress on pigment, paper, and wood treatments.
Wood frames are also at risk for damage from intense heat. The expanding of the wood frame in heat can stress the canvas or paper.
Smoke
Not surprisingly, smoke is not good for any artwork and can cause irreversible damage. Smoke is acidic and will cause discoloration or decay to paper and pigments over time. While the most common source of smoke is accidental fires, smoke from a fireplace and tobacco should be avoided.
Earthquakes
Earthquakes can happen anywhere, take precautions to prevent your artwork from being damaged by a fall. Consult with a local museum or art professional for recommendation on installing your artwork or look into hiring a professional to guarantee it's hung correctly.
Theft
According to the FBI, most art thefts in the United States, approximately 52%, happen in people's homes, whereas only 10% occur in galleries. Even further, only 5% of all stolen art is ever recovered. Most thefts are inside jobs, therefore making it more difficult to protect.
Protect your collection by protecting your home. In addition to your home security system, explore the idea of adding motion sensors to your art. With security cameras being more common these days, consider adding them so that your art is constantly being video monitored.
Insuring
More than likely, your art collection is not covered by a standard homeowners policy. Art pieces, like other valuables such as antiques, should be separately insured. You will want to contact your advisor and ask them about the different types of coverage available.
Like any insurance policy, be cognizant of what is covered. Some personal policies exclude restoration. Meaning that if your piece is harmed and needs to be repaired, you will be responsible for the cost.
Make sure you keep any bills of sale and catalogs of sales. You should also photograph each piece and give them ID numbers, which will also help you keep things organized. Make copies of all your documents.
Lastly, keep up on your appraisals. Some suggest having an updated appraisal once a year while others suggests every three to five years. There is no wrong answer and the appraisal frequency is heavily dependent on the age and medium of the piece. At the very least, you will want an updated value from the past few years especially if there's been an increase.
If you are scheduling an updated appraisal, specify that it is for insurance purposes. This will give you the most up-to-date market value of your piece. This is important for insurance, analyzing the overall value of your collection, filing your taxes, and selling artwork.
Your art collection is irreplaceable, protect your assets and your investment. It also ensures that even in the event of a catastrophic claim, you can continue collecting.