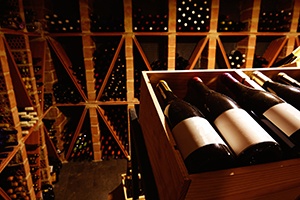 So much time and effort is put into producing a quality wine. Are you protecting your investment in case something should happen to your collection? You want to make sure it is properly taken care of until you're ready to taste or sell it.
Safe Storage
Temperature
The quality and consistency of your storage is critical. The worst thing for wine is rapid temperature fluctuation. This speeds up the deterioration of wine and prevents the slow development that produces exquisite mature wine. Wine subjected to high temperatures ages more rapidly and can develop cooked flavors. This is irreversible and will ruin the wine. Keep a consistent temperature as close to 56 degrees as possible and never above the mid-70s.
Humidity
The right humidity level is also important. Oxygen is the enemy of wine. In an overly dry atmosphere, corks will contract, thereby permitting oxygen to enter the bottle. Humidity of 70-75 percent is usually recommended. More than that can cause damage to labels.
Lighting
Light, especially sunlight, can pose a potential problem for long-term storage. The sun's UV rays can degrade and prematurely age wine. This is one of the reasons why vintners use colored glass bottles. Light from household bulbs probably won't damage the wine itself, but can fade your labels in the long run. Incandescent bulbs may be a bit safer than fluorescent bulbs, which emit very small amounts of ultraviolet light.
Documentation
Consider if the unthinkable happens and your wine collection is subjected to fire, flood, heat damage, or some other peril. Do you have the documentation that will help you when you file an insurance claim? Or should you wish to sell your wine, do you have the records that will establish provenance to the satisfaction of the secondary market?
With an increase in counterfeit wines, purchasers are wary and scrutinize the source of the wines they buy. Particularly those that are rare or collectible. Maintaining a record of the source of your purchases and the source from whom your vendor purchased the wine can help provide a chain of ownership.
The ideal scenario is an up-to-date inventory of your wines and receipts for all purchases. This will establish the contents and value of your collection. It is important not to forget to document consumed bottles. Taking a photo of the consumed bottle is a nice reminder for you to update your records, which should be done on a regular basis. This will ensure your inventory is up to date and your insurance coverage is adjusted accordingly.
Insuring Your Collection
More than likely, valuable wine collections are not covered by a standard homeowners policy. A wine collection, like other valuables such as art or antiques, should be separately insured. You will want to contact your advisor and ask them about the different types of coverage available for wine collections.
When purchasing wine insurance, the number one mistake is not asking about the extent of the coverage. Make sure your policy provides coverage on a worldwide basis, including warehouses and storage facilities, as well as wine in your home. Ask detailed questions such as "Is wine in transit covered to protect future purchases?" or "Is label-damage or bottle-breakage covered?".
Once you have your wine, get an appraisal. To know how much coverage is necessary, you need to know what your wine collection is worth. Get a wine-appraisal specialist to get you an estimate before selecting a policy plan.
Finally, evaluate your storage space. You may require additional coverage to insure your storage area. Talk to your advisor about the specialized environmental control system or other elements that have been added to protect and store your wine. Your homeowner insurance policy may need to be reviewed and revised to properly cover these investments.
A wine collection, whether for fun or as an investment, should be properly maintained and protected. Investment in proper storage, documentation, and insurance will pay off in taste and value. Cheers!