Today we're sharing insight from guest blogger Ron Kitchens, Chief Executive Officer at Southwest Michigan First. We hope you enjoy Ron's wisdom and perspective.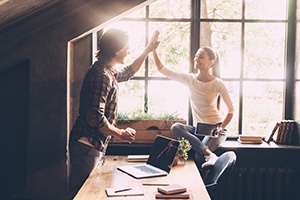 Whether at home, on the street, or in the office, all people want to feel valued and respected. Psychologists generally agree that appreciation is a basic human need, just like eating properly and getting enough exercise.
So, in the workplace, regular recognition is critical. Some well-timed words of encouragement after a job well done can make a world of difference. But if overlooked, a lack of recognition is detrimental. In fact, a 2017 Office Team study revealed that 66 percent of employees think about leaving their current position when they don't feel appreciated by their manager—and when it comes to Millennials, that number is as high as 76 percent.
Your team will respond to your recognition of their hard work because it shows that you not only value their efforts but also value them as human beings. Respect is a two-way street; a few words can go a long way towards building a great working relationship of trust. (And as an added bonus, after some pointed praise, the entire office now has the perfect model to follow as an example!)


The Five Rules Of Recognition
As thoughtful leaders, we respect our team members and value their dedication. So, the key to recognition is regularly communicating that respect clearly and effectively. To help you deliver meaningful appreciation, here are my five rules of recognition:
1. Make Recognition A Part Of Your Routine
Be intentional about recognizing your team. Take a close look at your organization's core values and devise a program of recognition that reflects them. Make gratitude a regular part of doing business and schedule time on your own calendar to write notes of appreciation. At Southwest Michigan First, we take time every Friday morning to express our thanks to team members with handwritten thank you notes we call "Catalations."
2. Know What Motivates Your Team
For your remarks to have an impact, you have to get to know your team. What makes them tick? What drives them as individuals? Is it words of praise, a handwritten note, or a small gift that energizes them the most? When in doubt, do as Andy Stanley teaches: "Do for one what you wish you could do for all."
3. Be Timely
If you wait too long to recognize success, it will appear that the good deed was overlooked or not significant enough to remember. Our team at Southwest Michigan First uses the communication app Slack to share thoughts of appreciation in real time in an ongoing group message.
4. Be Public And Specific
Every human has a need to be known. Be sure to use your team member's name and explain exactly what they did right to the whole office. This will encourage similar wins in the future.
5. Be Sincere
This is the most important rule. If you truly mean it, your team will pick up on your sincerity and the gratitude will spread. But if the praise is forced, it will fall flat.

Appreciation In Action
At Southwest Michigan First, recognition regularly takes the form of Catalations, our version of a thank you note. It is our way of making appreciation a part of our DNA. We call the notes "Catalations" because each is a "celebration" of how a team member served as a "catalyst," helping our team achieve its collective mission. Every Friday during our daily morning team meeting, or Scrum, we give Catalations for each other's hard work that goes seen and unseen.
Also on Fridays, we share personal achievements and cheer team members' hard work. We call these moments of accomplishment "ring the bell" moments as the team member celebrates by sounding a small bell at the close of our morning meeting. This way nothing goes unnoticed and everyone can share in the success. We might ring the bell for the completion of a major work project, or even something more personal. In this way, we can celebrate the milestones in one another's lives that we may not all hear about otherwise.


What's The Risk?
No matter which strategies you choose for your office, praise and recognition play a more important part in leadership than you might think. And no matter how often we recognize our team, we can always do more. As a leader, celebrating success can do nothing but benefit your team, and at the end of the day, all it takes is your time.
Always Forward.
— Ron
Question: Can you remember a time when a simple compliment was all it took to turn your day around?
This content was written and shared by guest blogger, Ron Kitchens.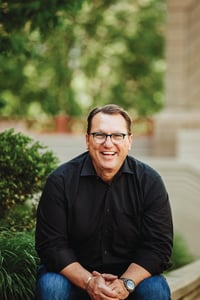 Ron's focus is to lift up leaders by accelerating their impact, influence and well-being in career, family and community.
Ron is the senior partner and chief executive officer of Southwest Michigan First, an economic consulting firm, which has grown 20% annually under his leadership. In addition, Ron leads Consultant Connect, is the publisher of 269 MAGAZINE™, board member of Impact Athletic, chairman of the Kalamazoo Institute of Arts and a Trustee of Western Michigan University.
Ron is the founder of the leadership conference Catalyst University and the co-founder of NEXT, an invitation-only leadership symposium for global economic development leaders.
Ron and his teams have been extensively featured in over 100 national and international media outlets including The Wall Street Journal, Fast Company, CBS, NBC, Fox, USA Today, Forbes, Fortune, The Economist and National Public Radio.
Southwest Michigan First is recognized as one of the Top 5 Best Places to Work in America by Outside Magazine, as well as a National Best & Brightest Company.
Ron is author/co-author of 3 books, including the bestseller Community Capitalism and speaks globally on leadership, creating thriving multi-generational teams and community capitalism, and his new book Uniquely You will be released in 2019. He blogs and podcasts at ronkitchens.com and can be found on Twitter @ronkitchens.