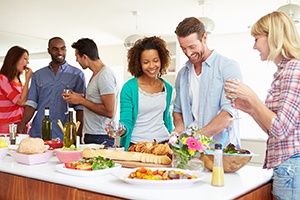 Opening your home to friends and family can be a fun way to celebrate birthdays, holidays, and more. You want to provide your guests with an enjoyable experience, but you also want to make sure they stay safe while visiting. Taking a few extra measures while planning could save you and your guests from potential injury and liability. Before your next gathering at home, consider the following:
Serving Alcohol
If there will be alcohol available, take caution to keep your guests safe. Offer non-alcoholic beverages, especially towards the end of the gathering, and always serve food. Don't serve alcohol to guests who are visibly intoxicated. Be a responsible host(ess) and limit your own alcohol intake so you can better judge your guests' sobriety. Designated drivers, taxis, ride-sharing services, or giving your guests the option of staying at your home will reduce the risk of driving while intoxicated.
Fire Extinguishers
Have a fire extinguisher handy, especially in the kitchen and near a backyard grill or fire pit. With more people in your home than usual, accidents can easily happen. But with an easily accessible extinguisher, you can respond quickly to prevent or reduce injury and damage.
Outdoor Lighting
If guests are leaving your house at night or you're entertaining outside, its crucial to have proper lighting. Be sure to check all light bulbs before the event to avoid trips and falls. You may want to install other sources of light such as string lights or tiki torches that not only add some flare to your gathering, but give you the additional lighting you need.
Fire Pits & Fireplaces
During the winter you may want to light your fireplace for some added seasonal charm to your party or start a fire to roast some marshmallows outside if the weather permits, but any open flame comes with added risk your guests. Keeping decorations and other flammable objects 3 feet away from the flame is advised. A mesh cage for your fire pit or a glass covering or decorative gate for your fireplace will decrease the risk for your guests. For more information on outdoor fire safety, check out our bonfire safety blog.
Pets
Your pets may not be familiar with your guests, and your guests may not be familiar or comfortable with your pets. If your pet tends to get nervous or bite when they are provoked, it might be a good idea to keep them in a separate room from your guests or inside their kennel. If you decide to keep your pets out with the guests, keep an eye on the interactions to watch for any concerning signs to help prevent an incident.
Firearms
Store all firearms in a locked and secure location. Children can mistake real guns for toy guns and to avoid an accident it is important to take the necessary precautions. Keep all firearms out of sight and out of reach of kids.
Backyard Fun
Swimming pools, playsets, trampolines, and other backyard toys can be a lot of fun for you and your guests. But they can also be quite dangerous, especially for children! Make sure there is always proper adult supervision. Keep all backyard items in good condition and well-maintained to help prevent injuries. For more backyard safety tips, click here.

Are You Covered In Case Of An Accident?
Even if you take the above precautions, accidents can still happen. Will your homeowners policy protect you if an incident does occur? It depends – on your specific policy and the situation. Talk with your advisor to understand your coverage and where there might be exposure gaps - especially if you have people over to your home often!

Remembering these potential hazards while planning your next party can help keep your guests safe and protect you from potential claims. A little extra attention upfront can make a big impact to alleviate the risks of entertaining at home!