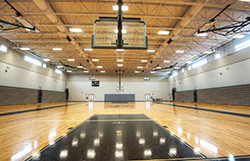 Schools, as community assets, open their doors to the public for sporting events, plays and concerts, meetings, voting, even gardening. They help entertain, enrich, and advance our communities.
But schools don't just serve the community mind; most schools also serve the community body. Their fields, playgrounds, and running tracks get us outside and help keep us active. Many schools also open their indoor fitness facilities to the community. From weights, to pools, to courts, communities can get moving in their school buildings.
Of course, things that move are things that can break. So before you decide to open your school's fitness facilities to the public, you should consider the following risk management recommendations.
Post warnings. Indiana law limits liability for schools that allow community members to use its equipment for a "physical fitness activity" if the injury arises out of the inherent risk of the activity. See Code 34-31-10. But to qualify for the limited immunity, you must post a specified warning.


Have guests sign a waiver. The document should clearly identify the risks of physical activity and include the warning in Indiana's statute. It should also be reviewed by (or better yet, drafted by) an attorney before it's put into use.


Limit offerings. Consider offering a program that eliminates higher risk activities such as swimming.


Employ monitors. Ensure any open fitness areas are monitored by trained and paid staff.


Develop policies. Specific usage policies for various activities or equipment can help both staff and participants maximize safety.


Limit hours. Consider limiting the hours the facilities would be available so as not to conflict with school and extracurricular use. Doing so will limit disruption to the usual school activities and reduce the risk of harm to students.


Place locker rooms and showers off limits. The risk of interaction between students and the community in a locker room or shower is one that should be avoided.


Get school board approval. This will allow the community to adequately weigh in on the matter and better understand any limits the school puts in place. It may also be required for the school's liability insurance to apply.


Notify your insurance broker. Opening facilities to community members may change a school's risk exposure in a way that may concern your insurance provider. Your insurance broker can help you navigate this disclosure and assure that your coverage will not be interrupted.
Regardless of how it's achieved, overall community fitness is a worthy goal. It's also one that is appropriate for schools to be a part of. So as you consider opening up your school's fitness facilities to the public, be sure to consider the impact on your organization's liability exposures and discuss risk management strategies with your risk advisor.