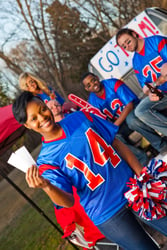 To some, Labor Day weekend signals the end of summer and the last hurrah. To others, it's the beginning of the best time of the year. The temperature starts to drop, the leaves slowly change colors, and the aroma of burgers and beer fills the air. It's football season!
With football season comes tailgating. We don ou
r team's colors and join a few thousand of our closest friends outside the stadium for hours of food, drinks, and fun.
For some, tailgating is nearly as important as the game itself. It has become an integral part of the game day ritual. But don't get so caught up in the festivities that you forget about safety. Consider these tips to keep your tailgating safe so you can enjoy the game:
Understand the rules for the site. What items are not permitted? Many colleges and stadiums have guidelines posted on their websites.
Grill with caution. Small oversights can put you and those around you in danger. Make sure your grill is in proper working order and kept away from your vehicle. Bring a fire extinguisher and be sure the gas or coals are completely out before heading into the game.
When you're outside all day, the sun can take a beating on you. For those consuming adult beverages, water is an essential element of your tailgate. Be prepared with plenty of water and sunscreen to avoid dehydration, sunburn, and sun poisoning.
Tailgaters seem to be stepping it up a notch each year with high-tech and elaborate set-ups. But what happens when it is time to head into the stadium, how will you keep your valuables safe? Have a plan to secure and hide any valuables before you enter the game to avoid catching the attention of a thief.
Use caution when entering and exiting the parking lot. Not only do you have to worry about other vehicles, but there will be crowds of people, including young children and inebriated adults. Take extra precautions. Go slow…slower than you think you need to.
Designate a driver early in the day before any drinking begins.
Food Safety
Don't put your guests at risk – be sure to follow safe food handling practices on game day. The U.S. Department of Agriculture offers the following recommendations:
Carry cold perishable food like raw hamburger patties, sausages, and chicken in an insulated cooler packed with several inches of ice, frozen gel packs, or containers of ice.
Place an appliance thermometer in the cooler so you can check to be sure the food stays at 40 °F or below.
When packing the cooler for an outing, be sure raw meat and poultry are wrapped securely to prevent their juices from cross-contaminating ready-to-eat food.
Perishable cooked food such as luncheon meat, cooked meat, chicken, and potato or pasta salads must be kept refrigerator cold, too.
If bringing hot take-out food, eat it within 2 hours of purchase (1 hour if the temperature is above 90 °F).
To keep food like soup, chili, and stew hot, use an insulated container. Fill the container with boiling water, let it stand for a few minutes, empty, and then put in the piping hot food. If you keep the insulated container closed, the food should stay hot (140 °F or above) for several hours.
If you can't keep hot food hot during the drive to your tailgate, plan ahead and chill the food in the refrigerator before packing it in a cooler. Reheat the food to 165 °F as measured with a food thermometer.
In addition to a grill and fuel for cooking food, pack a food thermometer so you can check and make sure the meat and poultry reach a

high enough temperature

to destroy harmful bacteria that may be present.
Include lots of clean utensils for preparing and serving the safely cooked food.
Bring water for cleaning if none will be available at the site. Pack clean, wet, disposable cloths or moist towelettes and paper towels for cleaning hands and surfaces.
Tailgating season can be a lot of fun. Don't spoil your game day with dehydration, food poisoning, stolen valuables, grill mishaps, or other incidents. Be aware of the risks and plan ahead to keep you, your family, and your guests safe.