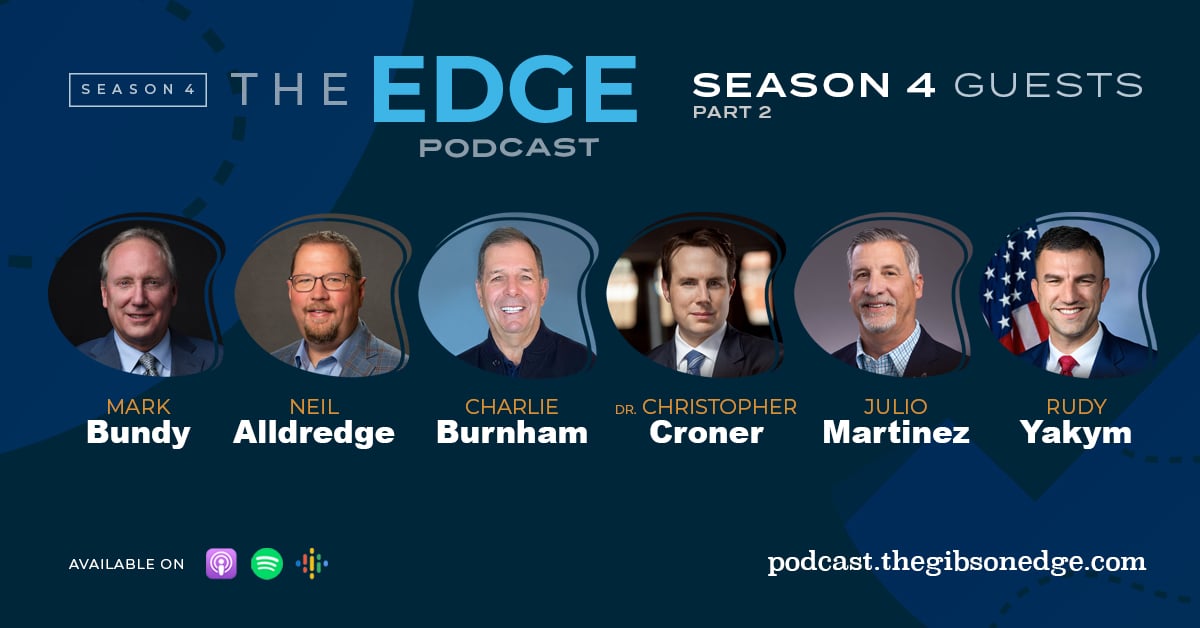 Season 4 of The Edge Podcast continues! Host Tim Leman talks with 6 leaders – from a variety of industries and experiences – to share real stories of leadership, teams, and finding your edge.
Click the links in the titles below to listen to each episode.


Mark Bundy shares about his early leadership lessons, emphasizing the importance of a strong work ethic, leading by example, and respecting competitors. From his over 20 years of experience as a COO in the insurance industry, Mark offers valuable insights on key characteristics to look for when recruiting sales professionals, connecting and coaching salespeople, and leading with empathy.
Neil Alldredge, CEO of NAMIC, joins The Edge to talk about servant leadership, clarity of purpose, and embracing a collaborative leadership style. As the leader of a trade association, Neil provides insight on the unique dynamics of working with board chairs and advice for setting clear expectations for successful board relationships. Neil and Tim also discuss the interesting history of insurance companies and the growing focus on diversity in the industry.
Charlie Burnham is a serial entrepreneur and a respected leader in the insurance industry, with a passion for helping others. In this episode of The Edge, he and Tim discuss building high-performing teams as well as the importance of connecting and building relationships. Charlie also shares what he has found to be the key attributes for successful salespeople.
Dr. Christopher Croner is a sales psychologist, assessment developer, and founder of SalesDrive. Dr. Croner and host Tim Leman explore the non-teachable traits of top performing salespeople: the need for achievement, competitiveness, and optimism. They also talk about Dr. Croner's curiosity and what led him to study psychology.
Julio Martinez joins host Tim Leman to talk about building personal relationships, trust, and teams. As CEO of Mno-Bmadsen, the non-gaming investment of the Pokagon Band of Potawatomi, Julio shares a unique leadership perspective on how to keep culture at the forefront when bringing together people and companies across an array of industries and expertise.
Rudy Yakym joins host Tim Leman to share about his journey to Congress and the lessons on leadership, culture, and community he has learned along the way. The Congressman talks about navigating competing interests, as well as the role he takes to help his team member achieve their aspirations. Rudy & Tim also discuss intentionality as it related to leadership, who we surround ourselves with, and how we stay connected to family.