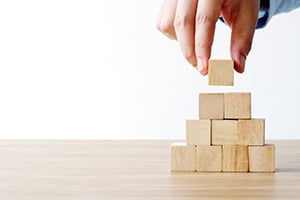 We live in a society that is constantly evolving, changing, and growing for the better. However, it is important to take the time and effort to prepare for it.

A great analogy is that of building or adding onto a house. When thinking about building a new home, or adding onto a current home, it is exciting to dream about the perfect rooms and their accompanying lifestyle. In these moments, people tend to focus on the things that would make life easier and more enjoyable. For example, heated floors and a whirlpool tub in the bathroom, an extra fireplace in the master bedroom, or a bonus room with the 70" Smart Television for watching the game.

However, before adding any of these "shiny new" features, make sure that you are building your house on a solid foundation that can sustain these additions. First, ensure that the ground and foundation that the house is to be built upon must be assessed to ensure it is "solid". Only then can a house be built to contain the additional features that will make life easier. Second, will the budget allow for the cost of shoring up the foundation, if needed, and allow for the desired upgrades.

This same concept applies to company operations and technology foundations. A company needs a "solid" foundation to build upon for growth and future changes coming their way. Are they considering what will be needed to make sure the company's foundation can support them? Also, will additional foundations that need built and require maintenance be able to be supported.

As companies continue to grow and expand, they must continue to fortify and build a strong foundation across their organization to support the changes that will foster a great experience for their clients, and most importantly for their employees. Without the support and buy-in from employees, it is hard to transition the excitement to the clients.