Today we're sharing insight from guest blogger Randie Dial, Managing Principal at CLA Indiana. We hope you enjoy Randie's wisdom and perspective.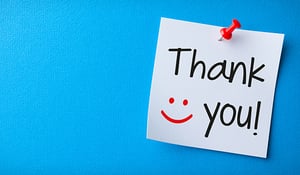 "At times, our own light goes out and is rekindled by a spark from another person."
The quote above can't highlight the concept of gratitude any better. Practicing the act of gratitude in your organization can have such a tremendous impact on so many areas. Culture. Retention. Team. Growth. These are all areas many leaders are striving to attain but can't quite achieve!
As leaders, we have high standards. We are driven by passion. That passion causes us to hold ourselves to the highest standards, which in turn causes us to expect a lot from our teams. Because of this, gratitude MUST become a part of our routine. As leaders, we need to be able to recognize and express gratitude consistently!

Stop And Recognize
We live in an age of abundance. Yet, so often, we focus exclusively on what we lack rather than what we have. This is true in all aspects of our lives, but for the driven and ambitious, it is especially prominent in our work. When things go wrong, we can be quick to play the blame game and focus on the shortcomings of others.
The past few months have been exceptionally challenging for many of us. Some of us have lost income, while others may have lost loved ones. We've all had to adapt to a massive paradigm shift in a very short span of time. As leaders, we need to be preaching messages of gratitude now more than ever!
We should be thanking our teams for adapting to the new normal. We should be recognizing and thanking our customers/clients for their continued relationships. We should be expressing gratitude for community partners we have come to know in our roles! The list goes on and on. If this pandemic has taught me anything, it has shown me how to STOP and RECOGNIZE people no matter who they are.

Practice Stillness
The very act of practicing stillness is a great way to integrate gratitude into your daily walk. This practice requires you to shut off all areas around you and just be still. No technology. No people. No noise. Just you. As you start to practice this stillness, you can then introduce gratitude into your thoughts. Think of all who you are grateful for. Think of your blessed surroundings. Use this time of stillness each day to practice your own gratitude. Then pay it forward and start vocalizing it in your interactions! If you make this part of your daily routine…it can transform your heart and your relationships!

What's The Risk?
Challenge yourself. Giving gratitude is not as easy as it sounds. This world can be hard, and the constant pressures can stretch people to their limits. However, being disciplined and starting a routine help. Try setting a goal to show gratitude via text to someone. Try gratitude over email. Try a small post-it note. Just attempt to start somewhere, and you will see the impact it has on the other person's day! Gratitude is so impactful and so positive, and it has become a big part of some great cultures!
"Feeling gratitude and not expressing it is like wrapping a present and not giving it." - William Arthur Ward
This content was written and shared by Randie Dial.
Randie has more than 20 years of experience in providing valuation, forensic accounting and financial modeling services to a variety of publicly-traded and privately-held companies. He performs valuations of businesses and intangible assets for a variety of purposes including financial reporting, tax, merger and acquisitions, private equity investment, and capital budgeting. Randie also works in transactional services such as due diligence.
Randie is the Managing Principal of the Indiana Practice for CLA. He is committed to the firm's position as a professional services firm that delivers integrated wealth advisory, outsourcing and public accounting capabilities. Randie is also passionate about the CLA Promise, which is about knowing and helping our clients succeed personally and professionally.
Connect with Randie via LinkedIn. Connect with CLA via their website, LinkedIn, Twitter, and Facebook.