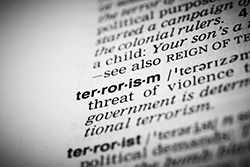 As the years have passed since 9/11, acts of terror have unfortunately become all too familiar in our world. Suicide bombings, mass shootings, attacks, bombings, and ambushes - the destruction has been devastating. And with the increased prevalence of these attacks, terrorism risks have become more of a threat to your organization – to your people, your property, and your bottom line.
Though its structure has changed significantly since 9/11, there is terrorism insurance coverage available to your business. Please note that the specifics of terrorism coverage are quite detailed. This blog is not meant to answer all your questions, rather simply to give you an idea of what terrorism insurance is and what it covers.
TRIA, TRIPRA – What Does It Mean?
Prior to 9/11, standard commercial insurance policies included terrorism coverage, effectively free of charge. But after 9/11, concerns about the limited availability of terrorism coverage in high-risk areas and its impact on the economy lead Congress to pass the Terrorism Risk Insurance Act (TRIA) in 2002. The Act provides a temporary program that, in the event of major terrorist attack, allows the insurance industry and federal government to share losses according to a specific formula.
TRIA has been renewed three times since 2002, most recently with the Terrorism Risk Insurance Program Reauthorization Act of 2015 (TRIPRA) which extends the program through December 2020.
Today, terrorism coverage is generally offered separately by insurance companies. Some insurers, however, have elected to include eliminating the option and decision (note: this varies by line of insurance). With most insurers it remains a line item option. When covered by an insurance carrier, insured terrorism losses are reinsured by the federal government through the TRIA program which acts as a "backstop."
Commercial Terrorism Insurance – What Is It And What Does It Cover?
What does a commercial terrorism policy cover?
Terrorism insurance covers damage or destruction of property due to an act of terrorism. Some policies may also cover losses associated with business interruption in relation to a terrorist attack.


Under what circumstances is coverage triggered?
For commercial terrorism coverage under to be triggered, the act must be declared a "certified act" of terrorism by the Secretary of the Treasury, in consultation with the Secretary of Homeland Security and the Attorney General.
TRIA outlines the following criteria for certified acts of terrorism:
It must be a violent act or an act that is dangerous to human life, property, or infrastructure.
It must be committed by an individual or individuals as part of an effort to coerce the civilian population of the United States or to influence the policy or affect the conduct of the U.S. government by coercion.
And the 2015 extension, TRIPRA, expanded the definition to include both domestic and foreign acts of terror. But again, an act or terror must be certified by the Secretary of Treasury before coverage to be triggered.
With the 2015 extension, the trigger level is increasing. In 2015, an event must cause at least $100 million in total property and casualty losses in order for the program to go into effect. This level increases in increments of $20 million for the next five years, hitting $200 million in 2020. Only terrorist acts likely to produce total insurance industry losses above the threshold will result in payment of federal funds.


What is excluded in a commercial terrorism policy?
Generally, all nuclear, biological, chemical, and radiological attacks are excluded from coverage. War-risks are also excluded. Due to the nature of the risks, these acts are considered fundamentally uninsurable.


Does our insurer have to offer coverage?
Yes. TRIPRA requires all U.S. property and casualty insurers to offer terrorism coverage. Policyholders may reject the offer and choose to mitigate this class of risk in other ways.


What if we don't purchase terrorism coverage and experience a loss?
If you have not purchased TRIPRA or other terrorism coverage, you will not be covered for property damage by an act of terrorism because acts of terrorism are generally excluded from standard property and casualty policies.


What about workers' compensation – how is terrorism addressed?
Workers' compensation is defined by state statutes and compensates employees in the event of on-the-job injuries, regardless of fault. Specific perils, including terrorism, cannot be declined or excluded from individual workers' compensation policies. This is also the only line of insurance that does not exclude coverage for acts of war. Coverage for terrorist acts cannot be excluded from workers' compensation policies in any state.


Are there any alternatives to TRIPRA in the marketplace?
There are alternatives to TRIA/TRIPRA in the commercial insurance marketplace and these are provided mostly by specialty insurers. These exist to help companies eliminate the uncertainty of TRIPRA's coverage trigger (i.e., the requirement for certification by the federal government), and may have broader coverage terms by including other perils such as sabotage, strikes, riots and civil commotion; and malicious damage. In addition, a stand-alone terrorism program could be combined with political risk coverages such as insurrection, revolution, and rebellion; mutiny and coup d'état; and war and civil war, particularly if you're doing business on a global basis.
Terrorism insurance is a quite a detailed subject. But hopefully you have a better understanding of the coverage and how it may apply to your organization. To learn more about what is available specific to your business, please contact your risk advisor.