Today we're sharing insight from guest blogger Dr. Kathy Cramer, founder and managing partner of The Cramer Institute. Tim Leman is taking some time off from writing his weekly blog to work on an exciting project focused on culture and leadership. We hope you enjoy Dr. Cramer's wisdom and perspective.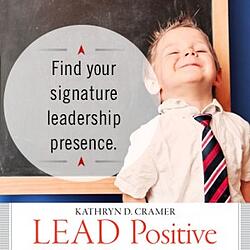 Who is your harshest critic? I'm guessing it's you. Like most highly effective people, you probably have high standards, big expectations, a keen eye… and are well practiced in self-criticism.
This post is about making the shift from self-criticism to self-coaching to find and strengthen your Signature Presence, the unique suite of leadership assets that make you effective. Instead of focusing on your shortcomings, it is about growing your awareness of who you are when you are leading effectively.
Knowing the particular positive qualities that underscore your leadership effectiveness is what allows them to shine through in all that you do.
Without overthinking it, fill in the blanks to the following with five different responses:
When I am at my best, I am a leader who is ____________.
Then, ask yourself:
If I were an even more effective leader, I would be _________.
This sentence-completion process uses the five-to-one principle to ensure your focus is on your assets, not deficits. When you can truthfully assess your talents, your confidence grows and you expand your capacity to improve.
What are your leadership assets? Mine are being relational, imaginative, enthusiastic, creative and articulate.
On the other hand, the one quality that I would like to tap into more is patience. Being patient will strengthen my ability to use my assets. For example, if I'm patient, I will almost assuredly be a more relational and enthusiastic leader. This insight strengthens my resolve to integrate this quality into my Signature Presence.
What's The Risk?
You were probably taught to internalize self-criticism by well-meaning parents, teachers and counselors who tried to improve your performance by pointing out what you were doing wrong. Unfortunately, they didn't realize that a preoccupation with what is not working actually impairs self-improvement. In fact, the unintended consequences of self-criticism include self-doubt, low confidence, and performance anxiety.
This content was written and shared by guest blogger, Dr. Kathy Cramer.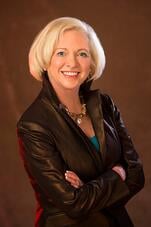 Kathy Cramer, Ph.D., is the founder and managing partner of The Cramer Institute in St. Louis, MO. She has received wide media recognition in such outlets as The Oprah Winfrey Show, Personal Excellence, St. Louis Business Journal, Realtor magazine, TomPeters.com, Forbes.com, and other national and regional venues. She has produced two films on stress, one of which received an Emmy Award.
Under Kathy's leadership, organizations such as DuPont, Microsoft, Starbucks, Peabody Energy, Deloitte & Touche, MasterCard and the US Air Force have adopted Asset-Based Thinking (ABT) approaches to developing their leaders and managing change.
For more than thirty years, she and her colleagues have pioneered the development of ABT approaches. Her signature programs, keynotes, books, online, and new media offerings have passionate followers among corporate leaders, entrepreneurs, nonprofits, schools, psychologists, coaches, and others who are dealing with change, transition, innovation, and success in today's world.
The Cramer Institute has built strong relationships with several schools in the St. Louis area where ABT has been integrated into teacher training and the curriculum. Recently, the Institute has joined forces with ABT Coach to give coaches and their clients new ways to jump start and sustain coaching results.
Learn more about Dr. Cramer and read additional blog posts on her website.
Connect with Dr. Cramer on Twitter, LinkedIn, and Facebook.